IPS can supply a full range of platforms, stages, gantries, towers and support structures for all your event needs.
Experienced working with temporary structure and rigging requirements in a wide range of locations, IPS can supply and install platforms and structures almost anywhere. From Film & TV studios, flashy hotels and stately homes to City Centre arts festivals, muddy fields and building sites, IPS can work with you to construct the structure you require. Extensive stocks of LiteDeck staging, Layher Allround & Event System products and lots of Prolyte Truss options form the basis of most solutions. Supported by a massive range of staging and rigging accessories, plus experience of a broad range of projects and custom engineering solutions, however simple or complex the requirements, IPS can help.
Working principally with modular systems, many different configurations can be constructed as a cost and time effective solution. Customised options are also available alongside a range of standard towers, platforms, and a popular range of Outdoor Roof structures. Most structures can be adapted for use for a range of purposes; some popular applications include Projection & Laser Towers, FOH and Control positions, Seating, Performance or Access Platforms (including Steps and Ramps), Cable Management and Signage Gantries for Entrances & Exits or Start and Finish Lines – plus much more. IPS structures have been used on a huge range of events and productions, sometimes playing a supporting role underneath a scenic dressing for a film or TV production, or sometimes visible for an industrial look for fashion photoshoots.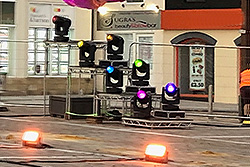 All IPS projects are complete with Full Health & Safety documentation, including COVID-19 Safe onsite procedures. Structural reports and Wind Action Plans and remote wind speed monitoring solutions can also be provided where required to ensure everything is safe for the duration of your event.
If you have a project coming up that requires platforms, stages, gantries, towers or support structures, please get in touch to see how IPS can help. IPS also has an extensive technical stockholding of Lighting, Sound, Video and Power equipment, all ready to hire. Check out our equipment hire range here.