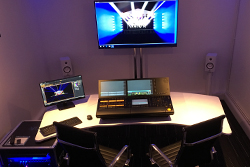 IPS has launched a dedicated Design Suite. Based with the IPS Milton Keynes warehouse, this smart space is fitted with everything required for creative lighting design. The Design Suite is available to use free of charge for IPS Customer, Freelancers and other Industry Professionals.
A high specification PC workstation running the latest version of Cast WYSIWYG Perform is the heart of the setup, connected via a Luminex ArtNet node to the lighting desk of your choice. A 60" UHD monitor means that visualisations can be easily seen. There is even a sofa area with refreshments and a TV for when you need a break, and a separate desk with Wi-Fi enabling a production manager or designer to work alongside a programmer if required.
IPS have a range of lighting desks from Avolites, Chamsys and GrandMA within the hire inventory that can be used in the Design Suite, or you can supply your own. Also, if a particular lighting fixture is required for demo, or to work out pixel mapping for example, there is a dedicated 16a supply in the room so this can be brought in as required.
The Design Suite has the following equipment:
Control Desk Space with 22" Illyama HD Monitor, 60" UHD Samsung Monitor & Yamaha Active Studio Reference Speakers
WYSIWYG Rack including workstation PC running WYSIWYG Perform release 37 & Luminex 8 way ArtNet Node
Lighting Desk of your choice (subject to availability)
Office Desk with Wi- Fi
Sofa Area with Coffee Machine & Drinks Fridge
Dimmable lighting with Blue LEDs
To book the design suite, or for more details, please get in touch with your project manager, or click here to contact us.