Here at IPS, we are constantly updating our dry hire equipment to ensure you have the best possible range to choose from. From stage rental options, to generators, to lighting and sound equipment - we endeavour to make our dry hire options cater for any occasion. Get in touch more information.
Viper 2.6 Fog Machine
New Fog Machine product added to IPS Hire range from Look Solutions
Viper 2.6 High Output Fog Machine
2600w Heat Exchanger with 100 steps of output control
DMX or local control with timer
Ready to hire now!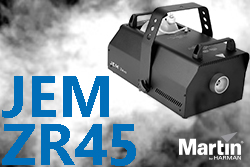 Fog Machine Stock Increase
Stocks Increased of Martin/Jem ZR45 Fog Machine
The replacement for the classic ZR33
2000w Heat Exchanger for high output Fog/Smoke effects
Power input via TRUE1 and DMX / RDM control via 5pin XLR
Floor standing or can be hung via supplied bracket
More ROBE BMFL WashBeams
Stocks Increased of ROBE BMFL WashBeam fixtures
Supplied flightcased as single units
Massive 180mm front lens with 5-45deg zoom
1700w Discharge lamp for serious fatbeam looks
Framing shutters, Rotating gobo wheel - and ready to hire now!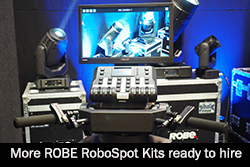 More RoboSpot Kits at IPS
Stocks Increased of ROBE RoboSpot Kits
Supplied complete with controller, motion camera & IPS 75m Multicore
Further increase in hire stocks following demand over the summer
Ideal for use with our ROBE Pointe or BMFL WashBeam fixtures
Allows followspots to be used where it would otherwise be impossible!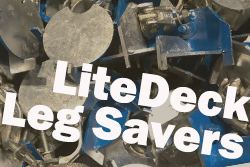 LiteDeck Leg Savers
Stocks Increased of IPS LiteDeck Clamp on Leg Savers
Can be used in either 2 way or 4 way configuration
Ideal for using with Adjustable Screw Jacks to level outdoor platforms
In stock and ready to Hire Now
Part of our extensive range of LiteDeck Staging & Accessories
LiteDeck Staging Wheels
Stocks increased on our LiteDeck Braked Staging Wheels
Ideal for making Rolling Risers in all kinds of sizes
Prefect for Drum Risers, Keys, Backline - or Rolling DJ Risers
Braked & Unbraked versions in stock
Part of our extensive range of LiteDeck Staging & Accessories
Moulded Socapex Cables
New Moulded Socapex Cable options now ready to hire from IPS
2.5mm Socapex with rubber booted connectors, ideal for use in harsh conditions
Initially avaliable in 20m, 25m & 30m Lengths
Large stocks of break/fan In and break/fan Outs too (with staggered options)
Ideal for all your six-way ruggedised cabling needs!
More Prolyte Truss Corners
Increased stocks of Prolyte H30V Corners ready to hire at IPS
H30V CO16 4 Way Corners along with a range of other standard fixed corners
Lighter than equivalent Box Corner configuration
Supplied as standard with two sets of conical couplers/eggs attached
In stock now along with many other Prolyte H30V options
Astera AX1 Pixel Tubes
IP65 Rated RGBW Pixel Tubes from Astera ready to hire now
Battery Powered with wireless control (or DMX via optional ART7 Controller)
Supplied as a case of 8 Tubes with various stand and rigging attachments
180 degree viewing angle, and up to 20 hours runtime
Each tube weights only 1kg - lots of possible configurations
Elation DTW 700IP LED Blinder
IP65 Rated COB LED Blinders arrive at IPS from Elation
Variable White Colour Temperature - 1800k to 3200k
Power in and out via TRUE1 Connectors for easy linking
Data in and out on 5pin DMX with up to 9 channel DMX Control Mode
Low power consumption and high output - now added to the IPS Hire range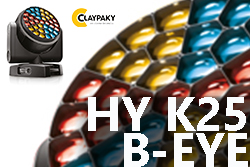 NEW Clay Paky B-EYE
The Clay Paky HY K25 B-EYE is arriving now at IPS
Twice the output of its previous K20 incarnation
37 x Osram RGBW LEDs creating the unique B-EYE effect
4 to 60 degree Zoom Range
Same size, improved features - get in touch for a quote!
Stock Increase: Low Fog Machines
Due to demand, we have added another Jem Glaciator Dynamic to hire stocks
Quieter running then their predecessor, and quicker to warm up
These smart units have an impressive fog output
Available with an accessory kit including ducting, adaptors and clips
Ready to hire today - get in touch for a quote!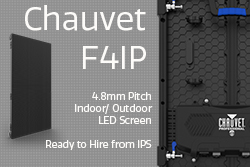 New Indoor/Outdoor LED Screen Option
Chauvet F4IP LED Screen arrives in IPS Hire Stocks
4.8mm Pixel Pitch
500mm x 500mm and 500mm x 1000mm Panel Size Options
Novastar A8s Driver cards for UHD Screen Resolutions
Suitable for Indoor and Outdoor Use - Full range of rigging solutions
HDMI Audio Extractor
Kramer FC46XL HDMI Audio De-Embedder ready to hire now
HDMI 1.4 input and output
Digital Audio Out via SPDIF (RCA Phono) and Optical (Toslink)
Analogue Audio Out via 3.5mm mini jack
The easy way to seperate audio from your HDMI feeds!
DJ Gear Stock Increase
Rider friendly Pioneer systems Hire Stock Increased at IPS
More Pioneer DJM900 NXS2 Mixers
More Pioneer CDJ2000 NXS2 CD/USB Players
Keep your DJ's happy with the latest USB Playback features
Native support for Traktor & Serato DJ Pro via USB-HID
More Speaker Options
d&b Point Source Speaker & Sub range increase at IPS
V7 Now Ready to hire (ideal for use with the V-SUB)
E8 added to hire stock, along with matching E12X-SUB
Y-SUB now added to hire stock (ideal with our increased stocks of Y7P & Y10P)
More M4 Monitors also in stock - all ready to hire now!
More Amps!
Increased stocks of both d&b D20 and D80 Amplifiers
The ideal 4 channel amplifier choice for d&b loudspeakers
IPS now have D80 units stocked as 'singles' as well as D80 Tour Racks
Analogue XLR or AES inputs and NL4 Outputs
Ready to hire from our sound department now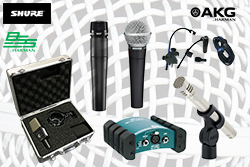 Mass Mic Increase
Increased hire stocks of AKG & Shure Mics - and more
More AKG C451B & C414 XLS Mic kits
More Shure SM57, SM58, Beta 91, Beta 52a, Beta 98 Mic Kits
More BSS AR-133 DI Boxes
Plus more stand, clip and mounting options - ready to hire now!
Chauvet H1 Mini Battery Fixtures - Now In White!
White Cased version now added to stock
Chauvet H1 Battery powered mini wash fixtures
10w RGBAW+UV LED Source that fits in the smallest of spaces
Battery powered, lasts up to 8 hours (all on)
Supplied in cases of 4 units, charged and ready to go!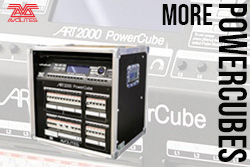 Powercube Stock Increase
Increased Stocks of the popular Avolites PowerCube
63a 3p Inlet
18+6 Way Outlets via 6 Socapex Connectors
Onboard DMX 2 port buffer
Neat way to manage hot power and dimmed circuits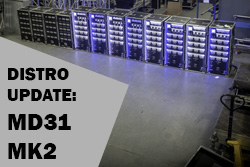 72 Way Soca Distro Update
New version of the MD31 72 Way PowerLock Hot Power Distro Ready to Hire
PowerLock Inlet
72 Way Outlets via 12 Socapex Connectors, RCBO protection
Comprehensive Metering - LED Case Lighting with USB Charger
32a 3p, 63a 3p & Powerlock auxilary outlets all with Variable ELR Protection
LEDBeam 150 Stocks Increased
Due to popular demand, hire stock of this compact LED fixture from ROBE increased
Ready to hire now from IPS, cased in multiples of 8 units
3.8 to 60 degree zoom with 7 x 40w RGBW sources create punchy effects
PowerCON in and out and 5pin DMX allow easy connections
Compact unit fits into almost any position in your design - Hire them now!
UV Studio COB in stock
UV Version of the Prolights Studio COB added to hire stocks
Indoor Use only, with PowerCON in and out connectors
DMX Control via 3pin or 5pin connectors
60 degree beam angle from 100w COB LED Source
Bright UV Output from a familiar fixture- ready for rental
Chauvet RGB LED Digital Festoon
IP43 Rated RGB Digital Festoon System in hire stock now at IPS
RGB Fittings on 15m Long Strings with a 0.75m lamp spacing
Powered via Controller (must be located in the dry) and optional 5m extensions
Control via DMX (3pin) including 60ch Pixel mode or use the built in patterns
Up to 3 Strings can be connected to run from one controller - 45m in total
Chauvet H1 Mini Battery Fixtures
Chauvet H1 Battery powered mini wash fixtures in stock now
10w RGBAW+UV LED Source that fits in the smallest of spaces
Battery powered, lasts up to 8 hours (all on)
Magnetic Mouting options, or via M12 bolt
Supplied in cases of 4 units, charged and ready to go!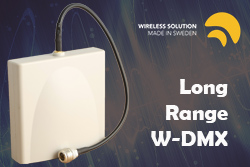 More W-DMX Options at IPS
Outdoor Tri-Band W-DMX Antenna for use with G-4 Transceiver
Adds range to Wireless DMX Solutions
Adds 8-10 dBi gain to signal
Fuly Sealed & suitable to be used outdoors
Ready to hire now from IPS
DMX-DMX-DMX-DMX-DMX
Updated Swisson DMX Recorder & Replay units now in hire stock
Latest XRC-200 Model
Control up to 1024 channels via 2 Universe Outputs
Stores up to 64 Sequences
Easy to use playback options for less technical users
Curved Curtain Track
Curved Option added to IPS Triple E Uni Track Range
1m Long 90degree sections
Can be connected to straight sections to create complex shapes
Compataible with standard Uni Track fittings
Ready to hire now from IPS
ROBE RoboSpot Systems at IPS
IPS ROBE RoboSpot Systems ready to hire now
Very impressive remote Followspot solution
Local or remote DMX control of fixture parameters during operation
Supplied with Basestation, Camera and IPS custom 75m control loom
Can be used with from 1 to 32 ROBE fixtures per kit!
ROBE BMFL WashBeam arrives at IPS
IPS add ROBE BMFL WashBeam fixtures to rental inventory
5 to 45 degree Zoom with a serious light output
Ideal for use with the ROBE RoboSpot System
Features include Framing Shutters, CMY Colours plus Colour Wheel & Gobos
Supplied by IPS cased in singles - ready to hire now!
Ramping up Cable Protection Stocks
2 Channel DDA Compliant Cable Ramp added to IPS hire range
Checkers GD2X75 is the two channel version of the already popular GD5X75
915mm long with tough 'dogbone' interconnecting sections for neat runs
Hinged Lid for quick deployment
Suitable for cables up to 32a 3P size - helps keep your site tidy and safe
LED Starcloth Stock Increase
LED Starcloth Stock Increase - more stock of popular sizes
Increased range of size options for RGB Chameleon Cloths
4m x 2m, 8m x 2m and 7m x 5m now ready to hire in RGB
Full DMX Control, ideal to transform almost any space
Cloths can be hung in any orientation, with velcro to all sides
Rigging Hardware Update
1.5m Steel added to 1000kg Rigging Steel Range
Colour coded eyes for easy identification
Ideal 5ft alternative for when 1m is too short and 2m too long!
Full range of Rigging Hardware in stock to hire now
2000kg Steel range also coming soon
More Unique Haze
Due to popular demand, more Look Solutions Haze machnies in stock
10+ Unique 2.1 machines ready to hire now
Smooth coverage, Quiet operation and low fluid consumption
Look Solutions Fluid also avaliable from IPS sales stock
The ideal way to enhance your beams today!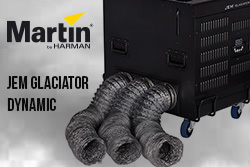 Jem Glaciator Dynamic
Latest version of the JEM Glaciator added to IPS Hire stock
The Glaciator Dynamic is a high output low smoke machine
Requires just a 32a 1p supply and fluid to operate
Quieter operation than previous model with higher output
Range of accessories also in stock including ducting and Fog Blade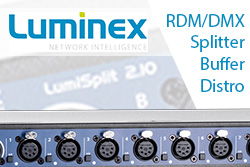 DMX Distro Upgrade
The IPS DMX Distributors have all been upgraded and are now Luminex units
Known as Buffers / Splitters / Distributers / Distros - all units are are now 5pin Only
Luminex LumiSpli 2.10 units are fully RDM Enabled (and filtered)
Units have 2 inputs, and each of the 10 outputs can be routed from either input
Also offer various merge and backup features - Ready to Hire Now!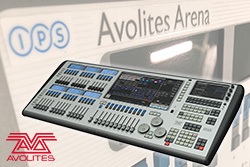 Avolites Arena Joins IPS Hire Stock
After many requests, the Avolites Arena joins the IPS desk lineup
Featuring two touchscreens and plenty of playbacks (40 in total)
Loads of on-board direct outputs via 8 DMX Universes
Art-Net & Titan Net compatability plus Opticon-Duo network connections
Supplied in a wheeled flightcase - ready to hire now!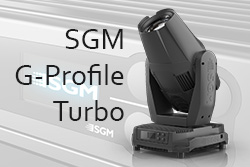 SGM G-Profile Turbo in stock now

IP65 Rated LED Profile from SGM added to IPS hire stock
8deg to 43deg Zoom Range complete with framing shutters
DMX, RDM and wireless control
Full RGB colour range - seriously bright with only 750w power comsumption
Very impressive fixtures (and impressively heavy at 52kg!)
Clear-Com Freespeak II Wireless Comms System

Two Channel Wireless Comms System now in stock at IPS
Single & Dual Muff Headset options
Operates on 1.9GHz Frequency to avoid interferance
High Quality two channel wireless communications for all your crew
Interface option to connect to existing Tecpro/Altair wired systems
Two Channel Wired Comms System now in stock at IPS
Single & Dual Muff Headset options
Connected with standard 3pin XLR Cable
High Quality full duplex communications for all your crew
Can also be used in conjunction with the Freespeak II Wireless System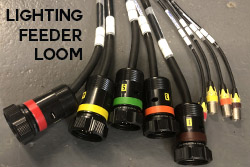 Socapex Feeder Looms & Staggered Break Outs

IPS have added 20m & 30m Socapex Feeder Looms to ease your lighting cabling
Each Loom consists of Five 1.5mm Soca Cables and Four 5pin DMX Cables
Supplied in a wheeled flightcase, ready to run out and plug in
Staggered 16a Socapex Break Outs are also new hire stock additions
Soca to 16a spaced as follows: 0.5m/1m/1.5m/2m/2.5m/3m
More Shure UR2 Capsule Options

Increased range of Shure UR2 Capsule options ready to hire now
IPS UR4D Hire System Handhelds come as standard with Beta 58 Capsules
These can now be supplied with Beta 87 or KSM9 capsule alternatives
Customise your capsule to suit your application
UA870/874 Directional Paddle Antenna Systems now also in hire stock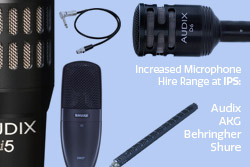 Increased Range of Hire Microphones

IPS Microphone Hire lists have been updated - various new products added
New Mics from Audix, AKG, Shure, Behringher and more
New Hypercardioid, Shotgun, PZM, Referance mics for all kinds of application
Stands, clips and shock mounts also in stock
IPS now offer an LED powered UV Cannon, the Chauvet EVE P-150 UV
25deg, 35deg and 45deg beam options via magnetic lenses
Power in and link out on powerCon connectors
DMX on 3pin and 5pin connectors, with control over dimming and other options
Low Power Consumption, Instant Start Up - and ready to hire now
Continued Customer Demand have led to IPS further increasing hire stocks
Additional 4-Way Smart Bat LED Uplighter kits ready to hire now
Additional StudioCOB LED Pars added to stock - including DY White versions
Even more stock ready to hire at the same great prices!
Prolyte S36 PRA Pre Rig Truss Hire Stock Update

Due to popular demand, IPS has increased hire stock of S36 PRA Truss
New 4ft length (1.22m) added to range
Truss has Black Powder Coated finish, supplied on wheeled dolly
1.2m (4') option joins currnet 3.05m (10') and 2.44m (8') lengths
Ideal for Tours - Speed up your Load in!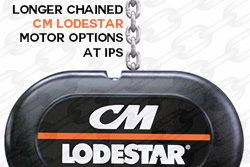 27m HOL Lodestars Ready to Hire

The IPS CM Lodestar range has been extended with a 27m Height of Lift Hoist added to stock
These 1000kg capacity Low Voltage control Motors are the same as the 20m HOL option - but with longer chains
Ideal for use with our new RT-S52SV & ST Rigging Towers
Fully tested, certified and are ready to hire now
Yamaha CL5 & Rio System in Stock for Summer

IPS have taken delivery of a pair of Yamaha CL5 72 Channel Digital Desks
Combined with Rio 3224D2 Digital Stageboxes for plenty of IO options
Also added is the SWP1-8MMF Network Switch to enable various connection configurations
Rider Friendly desk ideal for lots of live applications
Now added to hire stocks, the Robert Juliat Dalis 862 Asymetrical LED Cyc Fixture
150w LED powered with tuneable white output from 2200k to 6500k
1m long unit with integrated red and blue LED position location indicators
Simply, it is the mutts nuts of the front edge uplighter - hire it today!
Cold Fallout Sparkular Effects Ready to Hire

DMX controlled spark effect machines
Create bursts of sparks up to 5m high - height adjustable via DMX
Ideal used in pairs for a dramatic entrance - or multiples for a full stage look
No Hot Fallout or smoke - can be used in almost any situation
Runs from Granules (sales item) - 1 bag will for approx 12mins of effect
New useful sizes added including 3'x3' and 3'x1' LiteDeck
IPS have also added more hire stock ready for Summer on some popular sizes:
Increased stocks of 6'x4' and 4'x4' LiteDeck
Increased stocks of 2'x2', 3'x2', 4'x1', 4'x2', 4'x3', 6'x2', 8'x1 & 8'x3' LiteDeck
Plus a few thousand more bolts!
IPS have also added some more hard to find LiteDeck modules
4' Internal LiteDeck Quadrants for different corners
Left and Right handed 8'x4' Triangle modules
Handrails for the long edges of 4' Triangles
Even more options for your stage platforms!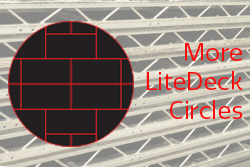 Increased Range of LiteDeck Circles

New 4' 10' & 20' Diameter LiteDeck Circle added to Hire Stocks
4' Circle made from 4 x 2' Quadrant Units (also avaliable individually)
10' Circle made from 4 x 5' Quadrant Units (also avaliable individually)
20' Circle made from Custom & 8'x4' LiteDecks
20' Circle can be hired as a Full or Half Circle
Loads of new creative possibiilties!
IP65 Rated Moving Head Beam fixtures added to hire stock
440w Osram Discharge source at 7000k colour temperature
2 Degree Beam Angle with full CMY Colour Mixing
Static & Rotating Gobs as well as Circular & Linear Prisms
Control via W-DMX or cable - RDM compliant
Power & Data in via True1 and 5pin XLR
IP65 Rated LED Moving Head Wash fixtures added to hire stock
19 x 40w Osram RGBW LED source
3 to 45 degree Beam Angle with Outer RGB Pixel Ring
Control via W-DMX or cable - RDM compliant
Power & Data in via True1 and 5pin XLR
IP65 Rated LED Batten added to IPS hire stock
1m Linear batten with floor stand or rigging options via Omega Clamp
15 x 10w RGBW COB LED cells with a 16 degree Beam Angle
Control via W-DMX or cable - Fully pixel mappable 4 to 65ch
Power & Data in and through on True1 and 5pin XLR
Shure KSM32 mics added to IPS Rental Stocks
Large Diaphragm Cardioid Condensor Mic
Ideal for Cymbals and Overheads, and much more
KSM32 SL & CG versions available
Supplied with mic clip
IPS Hire range of mics is expanding!
The AKG C451B is a small diaphragm Cardioid Condensor Mic
Ideal for Hi-Hats and percussion duties, plus much more
Supplied with mic clip
Retro Cool Robe Pickle Patt added to IPS Hire stock
The smaller version of the PATT 2013 fixture - the Pickle has a 575w lamp
Generic fixture with real lamp - no LEDs here!
16a power connector, and works well either hanging or on one of our Cine Stands
Nice touch for any design - camera friendly fixtures
Adam Hall Defender Midi Cable Ramp Wheelchair adaptor now in stock
For use with 5 Channel Defender Midi Cable Ramp
Kit comprises of 9 sections to make a blue ramp section within a run of ramp
Same hinging lid as other Defender Range - can fit up to to 63a 3p or Power Lock
Bit of a fight to fit, but a very tough durable finish
45 Degree Curved Cable Ramp Sections added to IPS Hire Stock
For use with 5 Channel Defender Midi Cable Ramp
Ideal to keep cable protection neat - espcially on the more complicated runs
Same hinging lid as other Defender Range - can fit up to to 63a 3p or Power Lock
DDA Ramp adaptor sections also now in stock
All IPS MacBook Pro machines are now running macOS High Sierra
Latest DT Videolabs collection avaliable via USB Dongle - Inc. Playback Pro Plus
Figure53 QLAB 4 now installed on all machines (license via web, not included)
Supplied ready to go with DVI & VGA Adaptors
Hire now - range of Presentation PC Laptops also in stock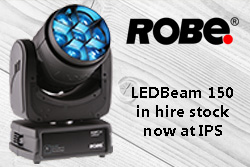 ROBE LEDBeam 150 ready to hire
Robin / Robe LEDBeam 150 is the latest RGBW fixture
7 x 30W LED sources with a 3.8 to 60 degree beam angle
Tungsten emulation mode plus CTO
Compact unit, with Zoom and super fast pan & tilt
Ready to hire from IPS now
Intense LED Strobe with RGB Flood and tilting yoke!
High brighness Cree XP Strobe LEDs in 12 Elemements
Osram LED powered RGB Flood with 12 Elements
Fully Pixel Mappable - or Strobe / Flood / Wash modes
All this plus 190 degrees of tilting yoke - hire now!
GLP Impression X4 Bar 10 Arrive at IPS
500mm version of the X4 Bar 20 - the perfect match!
10 x 15w RGBW LED Cells, with various mode options & pixel mapping
7 to 50 degree zoom - plus 190 degree tilt
Spaces perfectly with the X4 Bar 20 - and linking power & data
The missing link for your perfect show rig?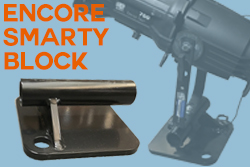 Smarty Block Floor Stand
5kg Floor Base - perfect for floor mounting lighting fixtures
Ideal to tuck lights in unusual places - even if they only have a single yoke
No need to remove clamps - quick to deploy
Low hire cost and plenty in stock
Black Velcro Drape for Wentex Pipe & Drape System
Ready to hire now are 3m x 4m Black Wool Serge Drapes - with Velcro!
Can be hung on the Wentex Pipe & Drape system and joined together
Suitable for use either in 3m drop at 4m long or 4m drop at 3m long configuration
Saves loads of time compared to tying on standard Drapes
Stocks also increased of Wentex hardware - plus the White Drape option too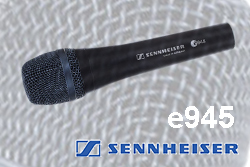 Sennheiser e945 Vocal Microphone added to IPS audio hire stock
Super Cardioid pickup pattern optimised for vocal performances
High feedback resistance and minimal handling noise
Ideal for on stage use
Ready to hire now - along with our ever growing mic stock
Time for Triangles - More Truss Corner Options
More H30V Corner options now in stock
Prolyte CO02 60 degree 2 Way H30V Truss Corner
Perfect for making equalateral triangles
Ideal for making creative truss structures
Ready to hire now - along with a large range of other corner sections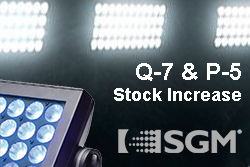 SGM P-5 and Q-7 Stock Increase
Further increase of these IP65 rated fixtures
Both feature RGBW LED
P-5 can be fitted with 15/21/43 degree lens kits
Q-7 ideal as a Flood / Strobe / Blinder with 110 degree lens
16A Cee Form in and out, DMX via 5pin XLR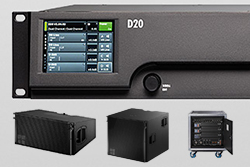 D20 & D80 Amplifiers and more V-Series
Large d&b audiotechnik stock increase
D20 4 channel amplifiers now in stock
Increased stocks of D80 Tour Racks
More V8 Line Array Cabinets and V-Subs
Versatile system architecture - and great sound
M4 Monitors set to be a crowd pleaser
d&b audiotechnik M4 monitors now ready to hire
Can be used in Active or Passive configuration
50 x 70 degrees dispersion
Ideal for use with D20 amplifiers
Compact dimensions and smart appearance - ideal for lots of applications
Massive Bass added to IPS hire inventory!
d&b audiotechnik J-INFRA Subs now ready to hire
Three 21" Drivers for maximum sub performance
144db maximum sound pressure when driven with D80 Amp
Cabinet measures 680mm x 1180mm x 1040mm with a weight of 152kg
A serious sub - ideal for making sound engineers happy!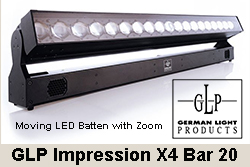 GLP Impression LED Bars added to Hire Stock
Innovative 1m Long LED Batten with motorised yoke & zoom feature
20 x 15w RGBW LED Cells, with various mode options & pixel mapping
7 to 50 degree zoom - an unusual feature in an LED Batten
PowerCON in and out connectors for easy linking
Built in macros reduce programming time - Ideal for creating big looks
Following customer demand, the ROBE Pointe is now in stock
Compact Hybrid fixture with 280w dischage source
2.5 deg to 10 deg and 5 deg to 20 deg beam modes
Flightcased in Pairs
Great fixture that fits in compact spaces - and light to rig
RIO Boxes add Options to Yamaha QL1
Yamaha RIO 1608 Digital Stage Box added to hire stock
16 input channels and 8 output channels
Dante digital network interface
Flightcased with two Managed Gigabit Switches for redundant networks
Ideal to add additional connectivity to Yamaha QL1 Desk
Even more Martin MAC Vipers added to IPS Hire Inventory
Viper Profile, Performance and Wash DX units in stock
Flightcased in pairs, at very competitive prices
High Output fixtures with quality optics
Over 100 units now in stock- call us for a quote today!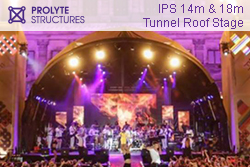 Prolyte 14m & 18m Tunnel Roof Stage
New Tunnel Roof Outdoor Structures added to IPS Range
14m & 18m Wide versions built on Layher substructure
Curved design with lots of rigging options
Optional Integrated Cowsheds & PA positions
Arriving Mid June 2017- More details to follow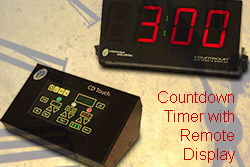 Interspace Industries- Countdown Touch
Countdown Timer with touch screen configuration
Optional external remote display connected via XLR cable
Display text can change colour to attract attention
Various modes - an easy to use hardware option
Ideal to keep presenters on track during a show
Increased range of Black Wool Serge Drapes
New options include Chain Weighted Headers at 40' Long in 2' & 3' drops
Headers all have ties to top edge
Any colour you like - as long as it is black!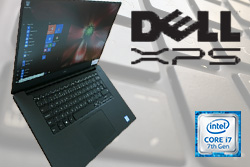 New Dell XPS Show Laptops ready to hire now
Latest 7th Generation i7 Processors
SSD Hard Drive, 16GB RAM and dedicated graphics card for maximum performance
Microsoft PowerPoint 2016 Installed
Ideal for even the most demanding presentation
All IPS Mythos units have now been upgraded to Mythos2
Now fitted with Osram Lamps and drivers
Dimmer Blades replaced for updated versions
Smoother dimming and increased reliability
Versatile Spot/Beam/Wash fixture now made even better- hire it now!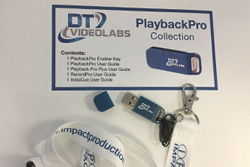 PlaybackPro, PlaybackPro Plus, Record Pro, InstaCue & Countdown Timer Applications
Available to hire with our MacBook Pro Laptops as a playback package
Also avaliable to hire on their own for use with your own Mac
Latest software version for glitch free performance
Much easier than DVD's or DVCAM Tapes!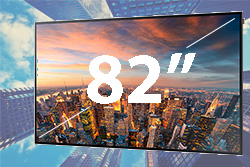 Massive 82" Samsung LED/LCD Screens
Large format Professional Spec 82" Screens
HDMI / DVI / VGA / Composite Input options
Onboard Media Player with Scheduler - plays direct from USB Media
Supported on Unicol Axia Titan Stands
A real alternative to small projection screens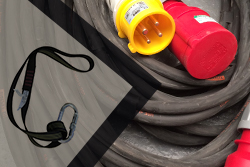 More Rigging Bits! Short Motor Looms, Cable Chokes & Black Steels
3m LV Motor Power & Control Looms added to hire stock - for when you need just a little bit more length
Cable Chokes now in stock - Karabiner & sling set to tidy hanging cables
Extra Large O Rings now in stock
Expanded Range of Black Rigging Steels - 0.5m/1m/2m/5m in stock
All IPS 2t shackles are now black to keep things discrete when needed
Prolights StudioCOB Daylight White LED Par
LED Par in Black floorcan format
High Output 150w COB LED Source with a 5000k Colour Temperature
IP Rated, ideal for indoor or outdoor use
38 degree Lens as standard, with optional 18 degree
5pin DMX & PowerCON True1 In and Out
Prolights StudioCOB RGBW LED Par
LED Par in Black floorcan format
High Output RGBW COB LED Source
IP Rated, ideal for indoor or outdoor use
38 degree Lens as standard, with optional 18 degree
5pin DMX & PowerCON True1 In and Out
Prolyte H30V Book Corners added to hire stock
Hinge corners to create almost any angle needed
Non Load Bearing - must be supported each side of corner
Ideal for creative truss applications
Compatable with all IPS H30V Hire stock
Make your truss grid more interesting today!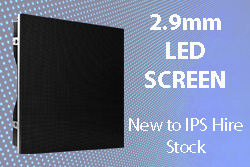 High Resolution modular LED Screen
500mm x 500mm Panel size - only 8kg per panel
Black faced SMD LEDs for high contrast and rich colours
Novastar Processing with lots of calibration control
Ground Stacked and Flown Rigging options
Prolyte S36 Pre Rig Truss now in stock
Supplied on wheeled dolly
Truss has Black Powder Coated finish
IPS stock currently 3.05m (10') and 2.44m (8') lengths
Ideal for Tours - Speed up your Load in!
Latest Pioneer Pro DJ Equipment

Pioneer CDJ2000 NXS-2 CD / USB Multiplayer
Pioneer DJM900 NXS-2 Mixer
All the enhanced features with next generation Nexus 2
Playback from USB or via Serato or Tracktor Control
Rider Friendly options for your events
Wentex Drapes Now Available in White

3m x 3m Drapes for the Wentex System now in White
Drapes have velcro for quick attachment
First time white has been a hire option
Compatible with all IPS Wentex Pipe & Drape System Rigging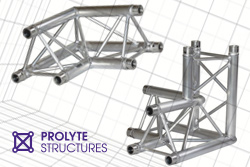 Prolyte H30D Triangular Corners Added to Stock
CO03 2 Way Corners & CO13 3 Way Corners
More H30V Box Corners available in Black
Larger selection of H40V Box corners in stock
All Truss regularly inspected and certified
Increased Ranges of HDMI & HD-SDI Cabling now in stock
1.5m / 3m / 4.6m / 10m HDMI
5m / 10m / 20m / 50m Drum HD-SDI
TourCAT & Cat 5 10way Looms ready to hire
Cable Adaptors & Scan Convertors also in stock
Linear 5 Cell Jarag-L added to hire stock
Units can be used in multiples to build complex arrays
Fitted with 10degree 75w lamps
Integrated Dimmers - just add power and DMX!
Cased in Multiples of Four units
IPS has boosted hire stocks of the increasingly hard to find 8- Cell Molefay
2 / 4 / 8 Cell Molfays in stock now
Fitted with 650w PAR lamps for that incandescent punch
All supplied on 16A CEE Form connectors
The perfect audience blinder!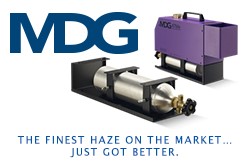 MDG ATMe Haze Machine ready to hire from IPS

Automatic Purging System™ (APS™)
Variable haze output control from your DMX / RDM device
MDG Neutral fluid is specially created for the longest hanging time
Portable kit with onboard CO2 supply
Virtually Silent running with no noisy pumps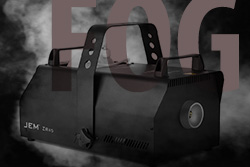 Large Smoke / Fog Machine ready to hire
Biggest member of the Martin/ Jem ZR Family
Onboard DMX control, plus detachable remote
Big but adjustable Smoke Output!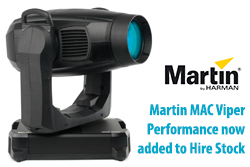 High Brightness 1000w discharge lamp source - 1200 or 1500w equivalent
10 to 44 degree beam range with CMY colour mixing & colour wheel
Performance model adds rotatable framing shutter blades for precise control
All IPS MAC Viper units are Flightcased in pairs
Look Solutions - Unique 2.1 Haze Machine

Industry Standard Haze Machine added to IPS hire stock
Very short warm up time - less that 2 minutes
Variable output with adjustable pump and fan
DMX control for easy remote operation
Quiet operation - 50 hours output from 2 litres of fluid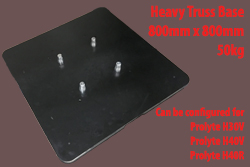 IPS 800mm x 800mm Heavy Base plates have been redesigned
Updated versions are Laser Cut for precision fitting
Can be supplied configured for Prolyte H30V, H40V or H40R
18mm ply base with handles for easier handling
Each base weighs 50kg- and they now stack for easier transportation
Super Bright RGBW LED Flood / Blinder / Strobe
Same form factor as SGM P5 with a 110 deg beam angle
IP65 Rated for outdoor use in all conditions
All IPS SGM Q7 units are cased in sixes
Yamaha QL1 Digital Mixing Desk

New Digital Mixing Desk from Yamaha ready to Hire
16 input channels and 8 outputs
Dante conntection onboard
16 Mix Busses
Premium effects racks onboard including Dugan Automixer
1m RGB LED Battens with 10mm Pixel Spacing
Fully IP65 rated for outdoor use
Range of Diffusers in stock
Control via DMX or Martin P3 protocol
High Brightness - Various Rigging Options
IPS Chamsys MQ100 desks upgraded to full Pro 2014 spec
64 Universes via Art-Net, ACN or Pathport
SSD Hard drives & Upgraded processing for smooth pixel mapping
More external monitor options and mounting brackets
Upgraded features - same hire price!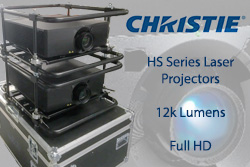 Christie Laser Projectors Arrive at IPS

Latest 12k Lumen Laser Projector ready to hire
Supplied with Stacking Frame & Flying Adaptor
Range of Lenses also in stock
DVI, HDMI, VGA & HD-SDI Inputs, Full HD Output
Shure Beta 98 Instrument Mics now ready to hire
Horn Mounting kit A98KCS in stock
Drum Mounting Kit A98D in stock
Supplied as a kit with capsule, lead, pre amp & mounts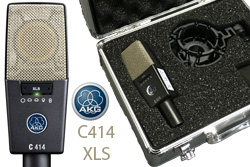 AKG C414 XLS Microphones Now in stock

Large Diaphragm Mic option now ready to hire from IPS
Switchable polar pickup patterns, attenuation and filters
Supplied cased with shock mount
Great for vocals and instruments - live or recorded
High Brightness 1000w discharge lamp source - 1200 or 1500w equivalent
10 to 44 degree beam range with CMY colour mixing & colour wheel
Large 140mm aperture front lens for Fat Beam looks
All IPS MAC Viper units are Flightcased in pairs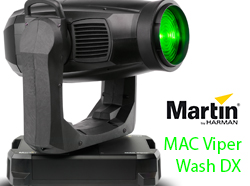 High Brightness 1000w discharge lamp source - 1200 or 1500w equivalent
13.5 to 59 degree beam range with CMY colour mixing & colour wheel
DX model adds Beam Shaping & Framing options
All IPS MAC Viper units are Flightcased in pairs
IPS further boosts Lodestar stock
More 250kg Prostar plus 500kg & 1000kg Lodestar Units arrive in stock
All IPS Lodestar units are Flightcased individually with a 20m Height of Lift, Low Voltage Control, and have Double Brake kits fitted
All IPS Prostar units are Flightcased in pairs or fours with a 12m Height of Lift and are Direct Control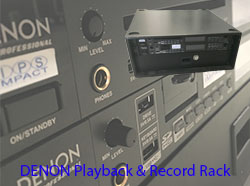 Playback & Recording Solution in a 4U Rack
Denon CD & Media Player (Plays CD's & USB Media, plus ipod input)
Denon Media Player & Recorder (records to USB Sticks or SD Cards)
Supplied with two Interspace PC Balancing boxes - can be used as inputs or outputs
Kit also contains XLR cabling for inputs & outputs
Increased stocks of Avolites PowerCube Dimmers
Increased stocks of Avolites ART2000 T4 Racks
ART2000 stocked with Dimmer / Hot Power / Contactor Module Options
IPS configurations and more product details now online here
Complete Dimming & Hot Power solutions in stock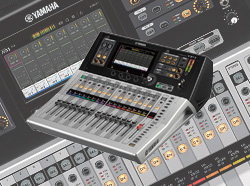 New compact format digital mixer
16+1 Motorised Faders
16 input & 16 output channels
Easy to use layout
Great value for money to hire
Wider Range of Shure Radio Mic Options

Increased stocks of Shure UR4D+ Radio Mic Systems
All Lavalier Capsules now Shure MX 150-B
DPA d:fine 66 Headset Mics now in stock in Beige
Very high quality radio mic system
Stocked in lots of configurations, racked in ways of 4
Palmer Audio Line Isolation Units

PLI 01 - TRS Jack in & out
PLI 02 - 2 x XLR in & out
Ground Loop Isolator - Removes Hum
Converts Unbalanced Lines to Balanced Lines
Really handy problem solver!
New premium quality lectern mic option
Cardioid Pickup pattern for maximum gain
Adjustable gooseneck for easy positioning
Supplied with clamp adaptor
Shure MX412 Lectern Mic avalaible now from IPS
IPS has upgraded the entire Aura rental stock to the New MAC Aura XB
Same fixture dimensions, and features - much higher output
Power connectors now changed to TrueOne
Still packaged in flight cases of six units
Really versatile fixtures made even better!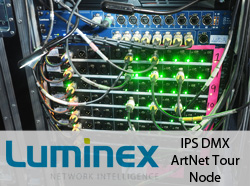 Ethernet to DMX Node with 8 DMX Outputs
Each DMX Universe has a 4 Way DMX Buffer on output
Features Luminex Ethernet- DMX8 Node & GigaCore 14R Switch
Housed in a wheeled 15U Rack with UPS and Light
Really handy output rack for the more complex jobs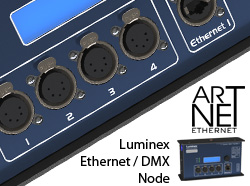 Luminex Truss Mount Ethernet DMX Interface Node

Ethernet to DMX Node with 4 DMX Outputs
Supports Art-Net, sACN and various other protocols
5pin XLR outputs can also be configured as inputs
Compact housing - can be surface mounted or flown
Configurable on the unit or via Ethernet
New - Barco ImagePRO II Scaler

Legendary Video Scaler now in stock at IPS!
Scaling and resizing options & EDID management
Inputs on DVI / HDMI / SDI / VGA / S-Video / YUV / Composite
Outputs on DVI / HDMI / Display Port & any of above
Also includes Switching, Freeze, Logo Store & Test Pattern Functions
Barco PDS-902 Presentation Switcher

Barco Presentation Switchers added to rental stock
Up to 8 inputs, with Main and Preview Outputs
4 x DVI / 4 x VGA / 1 x SDI Input
DVI / VGA / SDI Output
Ideal for all types of HD presentation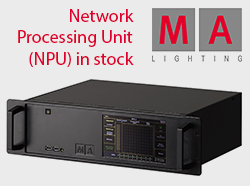 GrandMA Network Processing Unit now ready to hire
Expand your MA Network - Adds 8 x DMX Universes
Allows multiple MA2 consoles to program simultaneously
4U Rack mount enclosure
DMX Merging - 8 x DMX In or Out
Chauvet Epix Strip Tour LED Battens

1m Long fully mappable RGB LED Battens with a 25mm Pixel Pitch
Lots of mounting , and hanging rigging options
Powered using Chauvet Epix Drive 900 PSU on 4 Pin XLR
Up to 18 Epix can be powered from each PSU unit
Art-Net, Kling-Net and sACN Control Options
New Chrome Wireless LED Uplighters

Chauvet WELL Fit Battery Powered LED Uplighters now in stock
96 units ready to hire - supplied in cases of 6 units
High Output 10w RGBA LED light source
W-DMX / IR Remote / On board control options
IP65 Rated, so ideal for indoor or outdoor use
Supplied fully charged and ready to go!
Increased Range of Projection Screens

More 16:9 Projection Screen Options
Supplied as kits with Front & Rear Projection Surfaces
Leg kits supplied with each system
New smaller 8'9" by 4'11" Screen Option just added
Existing Stocks of 10'8" x 6' & 14' x 7'10"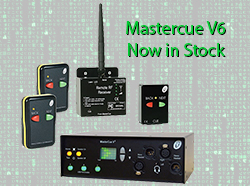 Interspace Industries - Mastercue V6 Cue Light

New to our AV hire stock is the Mastercue V6 kit
Supplied with 2 x Remotes, plus wired remote & confidence lamp
3 x USB outputs - ideal for complex presentations
Remote receiver unit works well in larger venues
Microcue USB Cue Light stocks also increased
Black Prolyte H30V Now In Stock

Following popular demand, IPS now offers H30V in Black
Matt Black Powder Coated finish
Avaliable in various lengths, plus corner options
0.25m, 0.5m, 1m, 2m & 3m sections in stock
Hire prices online, or contact us for a quote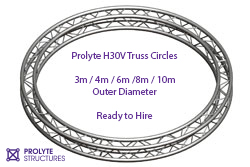 More Prolyte H30V Truss Circles

Increased stocks of Truss Circles
3m, 4m, 6m, 8m & 10m Diameter Options
Can be incorporated into Truss Structures
Suitable for flying in any orientation
Multiple circles in some sizes - ask for a quote today!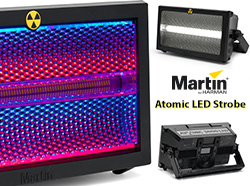 Latest LED Strobe from Martin in stock now
Extreme Brightness from an LED Source
Classic Linear strobe tube look with LED Backlight
Full colour LED backlight with mappable effects
LED and Xenon Modes, with Built in Effects Macros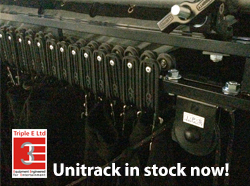 Triple E Unitrack Curtain Track

Triple E Curtain Track system now in stock at IPS
Full range of Track lengths stocked, including 0.25m, 0.5m, 1m & 2m
Each track section hired comes complete with joining kit
Range of accessories including runners, stops, pulley kits etc.
Sash cord stocked as sales item
Samsung LED Screen Range Expanded

32" / 48" / 55" Screen options added to IPS Hire range
Existing large 65" screen still in stock
Large format LED Screens - 1920 x 1080 Full HD resolution
Range of input connections including DVI, HDMI, VGA, DisplayPort and more!
On board Media Player with SD card reader and USB connection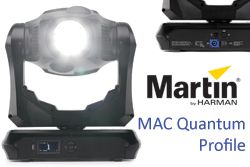 High Output LED Source Moving Head Profile Fixture
12 to 36 degree Zoom
CMY Colour Mixing, New fixed and replaceable Gobos
Zoom, Focus, Iris & Electronic Shutter/Dimmer plus Macro Effects
Flightcased in Pairs
Transmit DVI signals with perfect clarity - 1920 x 1080 Full HD resolution
New longer 50m Kits now in stock
Supplied on Drums for ease of use
Also transmits HDCP and EDID information for easy setup
Ready to hire now along with a range of other distribution equipment
600w RMS power output from 12" plus 1" HF
High Quality RCF components
Switchable Mic or Line level input via XLR with link out
Stand Mounting - very quick to deploy
Supplied in a soft bag with power lead - easy to fit into a car if needed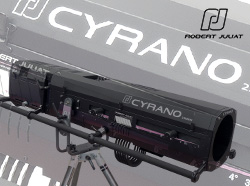 Robert Juliat Cyrano Followspot Kit

2500w HMI Discharge Source Followspot
3 to 8 degree zoom ideal for long throw distances in larger venues
Dimmer shutter maintains 6000k colour temperature during dimming
Supplied cased as a kit with Colour Magazine, CTO filters & Stand
Top Spec Pioneer DJ Mixer - On most current DJ Riders
4 channel Mixer with onboard effects and X-Pad control
Built in USB Interface (4 in & 4 out) and Nexus Connectivity
Ready to hire now, along with Pioneer CDJ 2000 Nexus Decks and much more
Large format LED Screens - 1920 x 1080 Full HD resolution
Range of input connections including DVI, HDMI, VGA, DisplayPort and more!
On board Media Player with SD card reader and USB connection
Unicol Parabella and Wheeled stand options- plus flying brackets available - or can be built into a custom set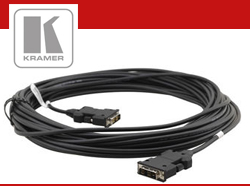 Transmit DVI signals with perfect clarity - 1920 x 1080 Full HD resolution
Handy 20 metre length with PSU that can be installed at either end
Also transmits HDCP and EDID information for easy setup
Ready to hire now along with a range of other distribution equipment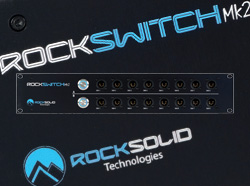 Rocksolid Technologies - RockSwitch mk2

Seamless switching between two lighting consoles during a show
8 DMX Universes in and out (via 5pin XLR), plus 1 x Artnet
Ideal for events requiring different operators/ acts/ bands to share the same rig
Fully isolated inputs and outputs - multiple units can be cascaded for up to 64 Universes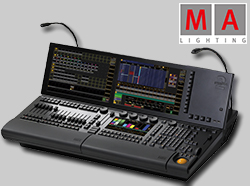 Advanced Lighting Desk that can control up to 4096 parameters over 256 DMX Universes
15 Motorised playback faders and two built in touchscreen monitors
Ideal for controlling large rigs of intelligent and generic fixtures plus video mapping
Six onboard DMX Outputs, two ArtNet outputs and Built in UPS
Ayrton MAGICBLADE-R Ready to Hire
Moving Head LED Batten with continuous rotation on Pan/Tilt axis
Seven RGBW LED Cells can be individually controlled for a wide range of effects
Create fast moving beam effects - versatile rigging options
Control via DMX or Art-Net, power input and link on powerCON True1 connectors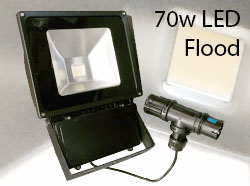 70w LED Floodlights in stock now
Low power consumpution - approximately similar output to a 150w HQI - brighter than a 500w Halegon Flood!
Fitted with 16a T-Line connector for easy connection
Single COB LED for even coverage, with quicker startup than discharge fittings
Tough IP65 Exterior rated fitting, with mounting yoke and supplied with clamp
Avolites Tiger Touch II Lighting Desk
Constantly requested Lighting Desk, running the Latest Titan Software
Integral 15" high brighness touchscreen for working anywhere
10 x playback faders, plus X,Y,Z encoders for ease of use
Four DMX universe outputs, plus ArtNet - up to 8192 channels of control!
New 2015 Macbook Pro with Playback Pro Software
2015 Macbook Pro in stock now
Loaded with PowerPoint 2011, Keynote & Playback Pro - ideal for video playback
High Spec Hardware, with intel i7, dedicated gaphics card & SSD Hard Drive
Supplied with DVI & VGA output adaptors, USB Superdrive & USB Mouse
Electro Kabuki Drop Systems ready to Hire
IPS takes delivery of EK Kabuki System
Really easy to Rig and Operate
Can be used indivudually or in multiples, and configured for lots of different effects
Supplied with half couplers for easy attachment to bars
Prolyte H40V Truss stocks increased
*New Sizes* 0.25m & 0.5m H40V now available
Shorter lengths ideal when making size critical shapes
IPS stocks a full range of H40V lengths, corners and accessories
50m & 100m Options ready for hire now - fresh out the workshop!
Featuring: 4 x 5pin DMX lines, 2 x EtherCon CAT 5 lines,
1 x XLR Comms Line, plus 16a Power in one neat loom
Supplied in a customised flightcase trunk
Lightware DVI over Cat 5 system

Extend DVI signals to up to 50m at full 1920 x 1080 HD
Also extends RS232 and Ethernet for remote projector/ display management
Avalaible for rental as a Transmitter & Sender Pair
Also suitable for HDMI video signals if used with an adaptor
Passive PC Balance Boxes now in stock
3.5mm Mini Jack to Balanced Stereo XLR
Perfect for connecting Laptops into Mixing Desks
Switchable Earth Lift, Audio Pad & Stereo/Mono options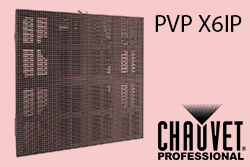 New Chauvet Outdoor LED Screen now in stock

6.9mm Pitch Outdoor LED Screen
500mm x 500mm Modular Panel Size
High Brightness Screen - Ideal for use in daylight
Range of Rigging Options & Support Structures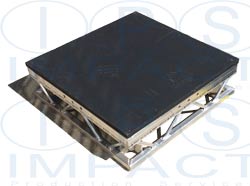 More LiteDeck for Hire - including now 2'x2'
Further stocks of LiteDeck added to IPS inventory
Increased stocks of 8'x2' decks - ideal for bars
New In Stock - 2'x2' LiteDeck - smallest yet!
IPS still UK's Largest Rental LiteDeck stockist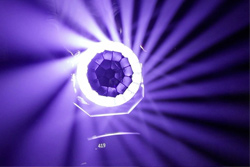 Additional Clay Paky B-EYE K20 ready to hire
10 Further Clay Paky A.Leda K20 B-Eye fixtures in stock for summer
Wash, Beam and FX modes
Powerful Effects Engine
37 x High Output RGBW LED Sources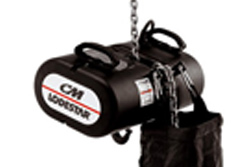 More 500kg Motors Added to Hire Stock
CM Lodestar 500kg Motor stocks boosted
Double Braked with 20m HOL
Low Voltage Control
1/8/16/32 Way control options available
Panasonic PT-VW530 Desktop Projectors
5000 Lumen
WXGA - 1280 x 800 16:10 Resolution
HDMI and VGA Inputs
Desktop Mounted or Flying Bracket Available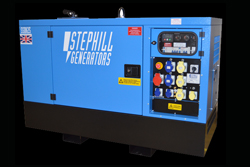 25kVA Generators Added to Hire Fleet
Approx. 36a per phase (Three Phase)
On board distribution
Super Silenced Diesel with long range tank
Road Tow or Skid Mounted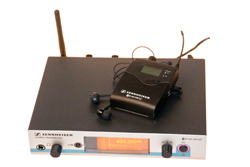 Sennheiser G3 IEM System Stocks Increased
New G3 Units in stock now
Mono or Stereo Transmitters & Receivers
Single units or 4 Way Kits in stock
(Headphones can be supplied as a sales item)
Smart Bat Wireless RGBW LED Battery Uplighters
High Output RGBW LEDs
Built in sequences, or control via DMX or IR Remote
Lithium Ion Batteries for light transport weight
Supplied in Four Way Kits
Eze Pin Wireless LED Battery Pinspot
High Output White LEDs
Control onboard or via IR Remote
Versatile Rigging options - Magnet / Clip / Hanging or Floor Standing
Supplied in Six Way Kits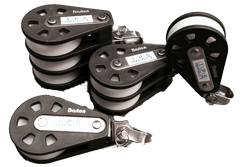 Curtain Track Pulleys
Lightweight Pulleys for curtain rigging etc
Single, Twin & Tripple Options
Swivel Connector at Top
Ideal for use with 12mm Sash Cord