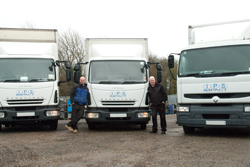 The IPS team have been completing various training courses over the last few months, gaining additional driving, rigging and IPAF qualifications.
Ben and Alex have been to the Backstage Academy to complete a training course run by The Rigging School. Topics ranging from basic principles and risk assessments were covered, along with trusses, baskets & chokes, shackles, chains & hoists and much more, including bridles and load analysis.
Joe and Andy (Fox) have also both passed their Category C driving tests in the past few weeks, and can now drive all the IPS vehicles including the big 18t Truck. They have already covered their first thousand miles, and been all over the place, including some tricky central London deliveries for recent film premieres. Additional drivers will further increase our delivery & collection flexibility – we can deliver to almost anywhere in the UK, and our varied fleet means we can select the most appropriate vehicle for your event- look out for us on the roads!
Most of our IPS Technicians already hold their IPAF licences to enable them to operate lifters safely, but a group are going for a refresher course next week to make sure everything is up to date. MEWP equipment is one of the safest ways of working at height, and with the broad range of different rigging projects already in progress for 2014, these are certainly skills that will be put to good use. The International Powered Access Federation is a well-respected institution, and is the training standards are recognised all over the world.
IPS invests considerable amounts of time and money each year to ensure that all staff are suitably trained to complete the roles that they undertake, and that whenever IPS are working onsite all relevant legislation and best practice is followed. If you have a project coming up that requires staging, rigging, lighting, sound or power, please get in touch to discuss your requirements.