IPS was delighted to have been involved with another Lumiere event in January, find out more here...
Working for Artichoke and their technical production partners Unusual Services, IPS supplied various custom designed LiteDeck and Layher based structures to support projection equipment in a range of central London locations - including a custom projector hide on the roof of a building in Piccadilly Circus. The London Lumiere event was a resounding success, and IPS have also been heavily involved with the technical production elements for the Durham Lumiere event that took place towards the end of last year, again supplying various structural solutions.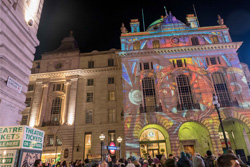 For the London Event back in January, IPS supplied a LiteDeck based projection platform that was installed on the roof of Lilywhites, and used as part of the Voyages installation to project large images on the wall of the Hotel Café Royal in Piccadilly Circus. Other installations that IPS were involved with include a Layher cube that was constructed off Tottenham Court Road for the 'Control No Control' piece, which also used the IPS Chauvet X6IP outdoor LED screen panels to produce part of the effect. Further Layher based projection structures were also supplied, and with IPS being able to configure towers to almost any size, it makes them a good choice for a range of events.
There are some more photos of this event on our facebook page here - ideal to browse if you are stuck somewhere in the current snowy conditions!
Keep an eye out for the next Lumiere events – they are free to attend, and a very impressive evening's entertainment. If you have any similar projects coming up that need projection in unusual locations, please get in touch with our team to discuss your requirements.