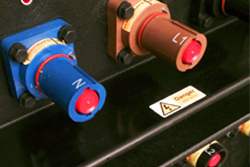 IPS has large stocks of power cabling, distribution units, cable ramp, plus a range of generators all ready to hire.
We have literally miles of cable in our rental stock, and loads of different adaptors to connect everything together. If you need something powering at your show or event, the chances are we have the cables to make it happen!
The Cee Form is our connector of choice for most power distribution, as it is rugged and hardwearing, and offers a reliable latching connection along with an IP44 rating making it usable in a range of both indoor and outdoor conditions. Available in single and three phase versions, IPS stock adaptors to and from most commonly found event and domestic power connectors to make sure you are always well connected. Above 125a, we move over to Power Lock connectors which have separate cables for phase, neutral and earth making the heavy cables easier to manage onsite. IPS cabling is available in a range of lengths, with 3m, 5m, 10m, 20m, 30m & 50m as standard. See the listings on our website here for more details on specific cables and conductor sizes.
IPS stocks more than 50 types of power distribution units, all of which offer different configurations so there should be everything needed to manage your temporary installation. Power distribution units (or distros) are fitted with a range of circuit protection typically comprising of either MCB/RCD protection or RCBO protection, and many of the larger units feature variable RCD protection too. Earth terminals are provided on many units – please see the listings on our website here for more details on the range of power distribution.
Cable routing and protection is an inevitable consideration when working on power distribution for events, and IPS stock a range of options. From simple rubber matting for single cables inside to clip together ramp systems that can be driven over for larger cable runs. The Defender Midi cable ramp is a very popular choice for events, and has 5 channels to keep everything tidy – the IPS stock also includes corners and now disabled ramp options to allow DDA compliant access over standard cable ramp. Alongside the defender range, IPS also stock a Chequers low profile ramp product that is fully DDA compliant – check out the range of cable protection options on our website here.
IPS has three different sizes of generator available in house – 6kVA, 25kVA and 67kVA. All units are super silenced diesel models configured specifically for event use. The 6kVA is barrow mounted for easy movement, and can deliver a 20A single phase supply in almost any location. The 25kVA and 65kVA are three phase units, both available in road tow or skid mounted configurations, and can be connected to external fuel tanks for long running performance if required. For more details about the generator ranges, click here.
All IPS power distribution and cabling is inspected and tested to the required standards, and when competently designed and installed can fulfil the requirements as set out under the BS7909:2011 regulations. As with most items from IPS, equipment can be supplied either on a hire only basis, or as part of a managed production solution for your event. IPS have BS7909 qualified technicians available and can take the worry out of your onsite power requirements. If you have an event or project coming up where we can help, please do not hesitate to get in touch to discuss your requirements.