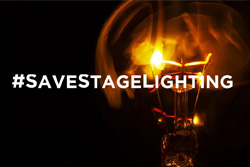 New EU regulations could effectively stop the use of all generic lighting fixtures and many discharge/LED fixtures by the end of 2020 if we don't act now
If you are not already aware of the proposed 2020 EU Lighting Regulations, there are strict new controls coming into place to regulate lighting fixtures. Whilst the lighting industry is always adapting to new techniques and best practice, this proposed regulation does not take into consideration the way professional users operate, and could have devastating effects on theatrical and entertainment lighting, both financially and creatively. Please help us campaign for an exception for professional use.
What is happening?
There is some excellent explanation from both PLASA and the ALD explaining in more detail, but as summarised by PLASA:
"Under the new rules, from September 2020 it will be illegal to supply products which don't meet the new EU energy standards (including a minimum 85lm/W efficiency and a maximum 0.5W standby power consumption) into the EU. This will directly impact all LED, arc and tungsten lighting fixtures used for entertainment lighting.
No tungsten light bulbs could comply with these regulations. Without the ability to replace bulbs, existing lighting fixtures will, effectively, become scrap. The cost of replacing fixtures could be financially devastating to venues, especially if it also means replacing the connecting dimming and control infrastructure."
What do we want?
An exemption for professional entertainment lighting products, in line with exemptions already granted to the video projection industry. Products are already defined by an EU standard, EN60598-2-17, which could form the basis for such an exemption.
More information is available: www.plasa.org/technical/lighting-regs.asp
What can you do?
1. Respond directly to the EU proposals by 7 May 2018. Every individual response will add more weight to the overall response from the industry. A help sheet to do this is available on www.plasa.org.
2. Spread the word by sharing this on your website, discussing the proposals with others and sharing the #SaveStageLighting hashtag on social media.
3. Make a united statement by adding your name to the list of those publicly calling for an exemption. Please email This email address is being protected from spambots. You need JavaScript enabled to view it. with your name, company and logo.
IPS are already very much onboard, and have been signing the petitions, and trying to help raise awareness – please help in any way you can. Thank you.