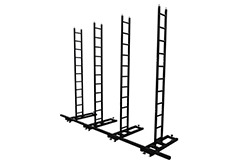 Prolyte LSU modular indoor LED Screen support system ready to hire from IPS
IPS can supply the Prolyte LSU Universal LED Screen Support system to support almost any LED Screen system with panel sizes in multiples of 0.5m. It works ideally with all the IPS Chauvet and Prolights screen options. The system is ground supported, and all the support hardware is behind the screen, so no ugly bits sticking out onto your presentation area.
Ready to hire off the shelf from IPS in widths from 1m in 0.5m increments, the system can be built to support screens at a range of heights from 2m to 4m in 0.5m increments. Simply hire the number of IPS LSU kits you require, add ballast and a screen and you are ready to go! Check out the latest dry hire prices here. The LSU system can also be built in a range of other sizes if required, just hire the number of IPS LSU kits needed to get the components you require.
The system is designed to be used inside only, and to support a screen system working from the ground up. If you need your screen higher, then we can also supply the parts required to build a LiteDeck platform under the screen support system to raise your screen to the height as required. Or you can design your own – see our LiteDeck hire range here.
The system is supplied by IPS in flight cased kits. Each kit contains enough parts to build a screen support of 1m wide and 4m high. If you need to go wider, just add more kits to add the parts you need - for example a 6m wide support would require 4 kits. Ballast is also required, with the amount needed depends on screen height. IPS have a huge stock of 12.5kg and 20kg hand weights to make this work. Due to configuration of the vertical supports, these will sometimes be visible at one or both ends of the support. In situations where this needs to be avoided, IPS have additional 1.5m long connecting bars that can be used in some configurations. There are more details on the Prolyte website here.
Each IPS Prolyte LSU Screen Support kit consists of the following items:
2 x LSU Adjustable Base
6 x LSU-30L-L100 Truss Upright
2 x LSU-30L-L75 Truss Upright
16 x CCS6 Pins & Clips for Truss
2 x LSU-CONNB-L100 Connecting Bar
8 x LSU-ADAP-03 Screen Adaptor
32 x M8 / M10 / M12 Bolts to attach screen panels
If you have a project coming up that needs an indoor LED Screen, IPS has a range of different LED Screen systems in stock, with a range of pixel pitch options including 2.9mm, 4.8mm, 5.2mm and 6.9mm. We can supply systems configured for conventional 4:3 or 16:9 ratio screen sizes, or can supply custom shapes and configurations to meet your needs. Check out the LED Screen section within our Production Services webpage here for more details, or get in touch for Dry Hire options.
For more details on the Prolyte LSU Universal LED Support, and to find out how you can hire it for your next event, get in touch with our team for a quotation.