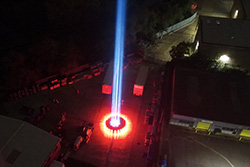 The campaign to highlight the need for government support for the events industry to survive the COVID-19 crisis continues
On Wednesday 30th September a Global Day of Action took place around the world, combining the #WeMakeEvents and #LightitinRed campaigns, and many others as people, companies and venues took part in a series of actions to draw attention to the plight of everyone working in events. IPS were part of the Milton Keynes regional activities, and as well as lighting the IPS warehouse in Red for the evening, IPS created one of 38 large light beams that were shone into the skies across the UK. Despite very wet conditions on the night, action took place all over the UK and beyond and there were a total of 2350 locations lit in total – check out the final map here.
The #WeMakeEvents campaign is very much still in action and continues to lobby government and fight for the livelihoods of everyone working within the events sector. The aims of the UK campaign are detailed here. Find out more about the campaign here: https://www.wemakeevents.com/ including all the different ways that you can support and get involved – from buying branded merchandise, fundraising or some of the other activities that are taking place, including the current Survival Tour cycle ride around some of the UKs major Touring and Festival sites and much more to come.
Milton Keynes has also ben represented on the previous day of action on the 11th August where a group of people representing the venues and companies working within the events sector gathered to raise awareness of the industry and its enforced shutdown. There are more details here.
Also, on the 6th July, a team from IPS worked with some local venues to light many MK buildings and landmarks in red as part of some initial action before the #WeMakeEvents campaign was officially started.
It has been great that there has been so much support locally from within the industry, and the campaigning will continue to try and spread the message before many more jobs are lost. Thank you to everyone who has been involved already, or who have helped spread the message – hopefully we'll all be working together again at live events in the not too distant future.