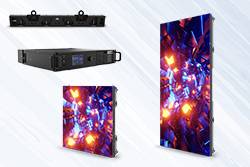 Indoor/Outdoor 3.9mm pitch Chauvet LED Screen ready to hire now.
We are excited to announce the arrival of the REM 3IP LED Screen to the IPS hire stock. This high output IP65 rated product is ideal for indoor or outdoor use and offers excellent colour reproduction – and features integrated convex/concave curving capabilities. Advanced MX40 PRO Novastar processing enables flexible configuration options and inputs, and we have nearly 500 panels in stock and ready to hire. 
Key Product Features include(more details can be found on the Chauvet website here):
3.9 mm pitch, ultra-high resolution, indoor/outdoor video panel.
Available in 1000mm or 500 mm (tall) by 500 mm (wide) form factors.
Control, Map and scale content with the Novastar MX40 Pro sender.
Operating in the DCI-P3 colour space and driven via the premium A10s Pro receiver card from Novastar, black body LEDs accurately reproduce video at 22-bit+ grayscale and a wide colour gamut.
High performance LED drivers deliver 7,680 Hz refresh rate for camera-friendly operation in high-demand applications.
Hot-swap magnetic LED modules with onboard factory calibration storage offers chroma, brightness, and the new thermal calibration for premium performance and uniformity of the panels.
Specialized frame design allows for overhead hanging, ground stacking, and wall mounting, which maximizes the design for multiple applications.
Corner protectors and specialized LED board design offers impact resistance up to 3x that of other panels, and resilient led mask design optimizes viewing angle and uniformity without exposing the LEDs to front or side impacts.
Strong, magnetic assisted hanging makes setting up the panels fast and easy.
Specialized anti-reflective coating applied to the front of LED modules ensures optimal viewing comfort.
1m Panels are cased in multiples of 4 panels, and 0.5m panels are cased in multiples of 8.
Pricing details are available on request. Get in touch with our team to discuss your next project.