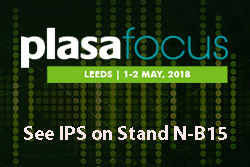 On the 1st & 2nd May, IPS will be on stand N-B15 at The Royal Armouries in Leeds
IPS will be exhibiting at the Plasa Focus Leeds show, and will be showcasing our expanding range of IP rated outdoor lighting equipment, including some exciting new additions to the range – the Prolights Panorama Beam IP, Prolights Panorama Wash IP moving head fixtures alongside the Prolights Lumipix 15 IP LED Batten. More details on these fixtures coming soon - but why not come along to the show and see them for real. They join an already established collection of hire items including fixtures from Martin, SGM and many others.
IPS offer a range of hire equipment, with Staging, Rigging, Lighting, Video, Sound & Power departments each stocked with industry leading hardware. Our dedicated team of project managers and technicians can help you get the most out of the equipment – and our hardworking service, warehouse and transport staff will make sure that everything reaches you in the best possible condition, ready for a successful event.
Plasa Focus Leeds is a free to attend tradeshow, follow this link to register online, and for more details about getting to the venue and where to stay click here, and details of the seminar program, keep an eye here for the latest updates.
We look forward to seeing you at the show – if you will be attending, please do come and say hello. If you have any other requirements, please get in touch with us here.