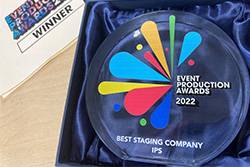 IPS are proud to have won Best Staging Company at the Event Production Awards
Presented onstage at the Event Production Awards show at London's Novotel Hotel on Thursday 17th February, IPS beat off tough competition to bring home the trophy.
The award was judged by a panel of industry specialists, and entries were considered using a series of criteria including innovation and creativity in approach, spectacular and visual theming, how the staging has augmented the attendee experience, positive safety etiquette and working to clear and specific objectives.
The awards reflect projects that have taken place in the preceding twelve-month period, which saw IPS working all over the UK to deliver a wide range of structures projects for a mixture of new and established clients.
IPS has been supplying staging to the events industry for many years, and offers a wide range of staging services, from platforms and control positions to covered Roof Structures. The IPS range can accommodate performances from a single performer of DJ to a full orchestra, with platform sizes from 6m to 24m in width, and a variety of different structure types to suit all kinds of performance.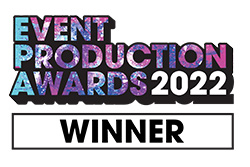 Check out our Roof Structure options on our website here. Bandstand type structures ideal for 'in the round' performances, attractive curved roof designs, self-climbing tower supported structures ideal for more production heavy performances, and a trailer mounted mobile stage option are all available from IPS.
Bookings for 2022 have been coming in thick and fast, with many summer weekends now fully booked – perhaps now is an ideal time to start thinking about 2023 event requirements. Our Award-Winning team are ready to hear from you, please get in touch to discuss your requirements.