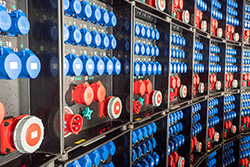 300 Power Distribution units and over 30km of power cabling added to IPS hire stock
Over the last few months we have been hard at work increasing stocks to support both our own projects and the dry hire requirements of our customers. Around £750,000 has been spent on top quality hardware that will provide many years of reliable service. All cabling has been made with tough black H07 cable and fitted with either CEE Form or Power Lock connectors, and the distribution units have been manufactured and supplied by Distro Design.
We now have an available hire inventory of more than 80km of mains cabling consisting of both single and three phase options, in 16A, 32A, 63A, 125A, 200A, 400A and 600A variants. The 200A Power Lock range is new for 2022, with sets stocked in 5m, 10m, 25m and 50m lengths. All cabling is colour coded and labelled with length and ID details and has been electrically tested and logged on our barcode-based inventory system.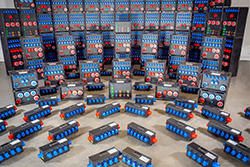 The 300 new and updated power distribution units have been manufactured and supplied by Distro Design and incorporate lots of features to make them perfect for a hard life in the events industry. All units have been fitted with recessed tour plate labels and scribble strips to make each unit and circuit quick and neat to label onsite. Smaller distro units are fitted with carrying handles, and larger production units are fitted into wheeled frames for easy handling onsite. This brings the total IPS power distribution stockholding up to nearly 550 units.
In keeping with the existing hire stock, distribution units follow the same naming conventions. Distro units are fitted with incoming MCB protection, and then depending on the specific configuration RCD protection for the outputs. Larger units are fitted with Digital Metering, Variable RCD protection, Power Lock & Earth Terminals. Stock counts of each unit has been boosted, with each new model of distro being stocked in quantities from 20 to over 100 units. For details of the new units, as well as the rest of the power range, check out our website here.
IPS also stock a broad range of power adaptors to connect everything up, with converters, splitters, plugboards, and 13A, 15A, powerCON, TRUE1, IEC, Shuko adaptors to name just a few, almost any combination is possible. We also have over 750 sections of cable ramp available for hire, with a range of standard, modular and wheelchair accessible options to choose from to make everything work onsite. This is alongside our huge stocks of Staging, Rigging, Lighting, Video and Sound equipment also available to hire. If you have equipment requirements for project coming up, please get in touch with our team for a quote.