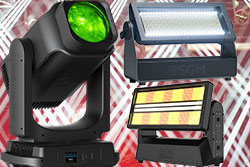 SGM Q-8, Chauvet Color STRIKE M and Ayrton Cobra fixtures added to hire stock
We are excited to have had a lot of new lighting products arrive over the last few weeks, with the arrival of three brilliant new products in our hire stocks. Living up to our usual #tradehire credentials, our workshop and warehouse teams have been kept very busy as we will have 100 of each fixture type available to hire!
The SGM Q-8 is an upgraded replacement for the popular Q-7 fixture. Described by SGM as a Dual Source Strobe / Flood / Pixel / Blinder; Major changes from the outgoing model are the two linear LED arrays at the top and bottom of panel, the increased intensity of the output, plus a range of other tweaks to improve and update the fixture.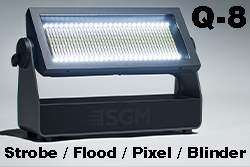 Fully IP66 rated, so ready for use in a range of environments, with TRUE1 inlet and link out connectors for power, plus onboard CRMX Wireless DMX. The strobe elements on the Q-8 match the strobe elements in the centre of the SGM G-7 BeaST too. Full specifications from SGM are on their website here. Ready to hire now from IPS, although at the time of writing the cases aren't quite ready yet so will be dispatched in stillages or trunks as suitable, each fixture is supplied with a Quick Trigger clamp, Safety bond, and a 16a to True1 power cable.
The Color STRIKE M from Chauvet is an IP65 rated strobe with a motorised tilting yoke, able to move the head 180degrees. Similar in concept to the excellent GLP JDC1 strobe fixture but can also be used outside. Despite the irritating American (mis)spelling of Colour, these punchy fixtures look a little like a traditional strobe, with a tube-like central LED array supported by 14 LED panel zones too. They also have mounting options both on their base and on the yoke, so can be rigged in either horizontal or vertical orientation. Full specifications from Chauvet are on their website here. Ready to hire now from IPS, although like the Q-8's the cases are still currently waiting for cases so are currently being dispatched on meat-racks for larger orders. Each fixture is supplied with an Omega bracket with a Quick Trigger clamp, a safety bond and a 16a to True1 power cable.
The Aytron Cobra really is something different. After a long wait, and various snake based teasers, these fixtures are in stock and they do not disappoint. A 6500k white laser source provides the punch powering this moving head fixture, and features include a 0.6 to 23 degree beam angle with 92 gobos and very intense light output. The Cobra is also IP65 rated making it suitable for indoor or outdoor use. Full specifications from Ayrton are on their website here. Ready to hire from IPS, the Cobra is dispatched mainly in dual flighcases, although we also have a limited number of single cases too – packaged with a pair of Omega brackets with a Quick Trigger clamps, a safety bond and a 16a to True1 power cable.
Check out the links above for all our latest lighting hire prices, and also the wide range of other fixture and control options that we have in stock, alongside our Staging, Rigging, Sound, Video and Power equipment also available. If you have an upcoming project that requires any of these fixtures, or if you'd like some more information give us a shout, or find out how to get in touch with us here.