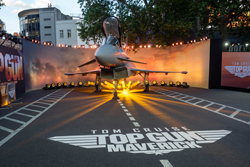 An epic event to launch the long-awaited film – with a full-size fighter jet on the stage!
Back in May, IPS were delighted to have supplied Staging and Structures for the Royal Premiere of Top Gun Maverick in Leicester Square, London. Working for Limited Edition Event Design, IPS also supplied Video, Lighting and Power Distribution for the premiere, which had been in the planning for almost two years.
Leicester Square Gardens was filled with this Premiere, and the design featured a Layher based perimeter branding wall, which incorporated various 3D Logo and LED Screen sections for presentation and photo opportunity areas. One of the most eye-catching elements of the premiere was a full size model jet fighter that was also incorporated onto the Layher platform.
IPS have previously supported all kinds of cars and motorbikes, and once a helicopter, but this is the first time we have dealt with a plane – and it did take some complicated additional structural engineering. In case you are wondering, the plane arrived overnight on three articulated lorries, where it was moved into position on the structure with a 150-tonne crane!
The central fountain within the gardens was surrounded with a layher structure fitted with LED Screen towers. A matching concentric branding wall also followed the line of the fountains, also fitted with LED Screens, creating a curved red-carpet corridor. In total, IPS supplied 26 sperate LED screen elements, plus a 7m x 3m interview backdrop screen, all created with Chauvet F4IP LED screen panels. Content was provided, and IPS worked closely with the onsite broadcast teams to tune the colour temperature, so everything worked seamlessly on camera as well as onsite.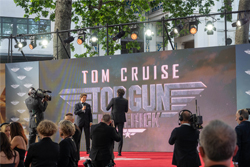 Lighting wise, IPS supplied nearly 500 IP rated fixtures for the premiere, ranging from the Prolights StudioCOB and Chauvet OnAir IP panels used to provide wash and key light, to Chauvet Rogue Outcast 1 BeamWash, Ayrton Perso, SGM P-5 and SGM G-7 BeaST fixtures highlighting details and added effects. Control was via a Chamsys desk, with a Art-Net and DMX distribution system based around Luminex processing.
There is some great coverage of this project in the June 2022 edition of Lighting & Sound International Magazine (check out the full story here – we are on pages 24 & 25).
Top Gun Maverick was a great project to be involved with – and it is also a great film which is well worth seeing if you get the chance. If you want to add the Need for Speed to your next production, check out our range of Staging, Rigging, Lighting, Video, Sound and Power equipment ready to hire now – or get in touch with one of our team to discuss your flight plans (or for a quote).