The nights are getting darker, and we have a full range of IP65 fixtures ready to hire.
With the clock change and Halloween a distant memory, outdoor winter lighting installations are beginning in earnest. Despite a lot of items already committed to rental projects, we still have available hire stock of most of our range of IP65 lighting fixtures which are ideal for outdoor use for your 2023 and 2024 events.
Below are some suggestions for popular fixtures that may suit your outdoor event requirements. These are all listed on our website, but they are grouped here by application type which may be an easier reference than the listings pages if you need a starting point – or possibly just something to nudge an idea into the next stage of development. You can check out the full range and all list prices on the website, and please get in touch with our trade hire team for quotes or to discuss any upcoming projects.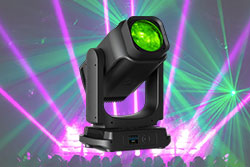 Outdoor Moving Head Beam fixtures – Our Cameo OTOS B5 Beam is the classic beam choice, or the Ayton Cobra offers a Laser Source beam that literally will go for miles in the right conditions. For a fatter beam look, the SGM G-7 BeaST is worth checking out. For a more compact fixture size, the Chauvet Rouge Outcast 1L Beam are a great value outdoor beam (although most are already booked for November) and the Chauvet Rouge Outcast BeamWash1 is another compact fixture with beam feature. Finally, whilst not specifically designed as a beam, our range of moving head profiles do also offer a pretty impressive beam effect at their tightest zoom – the versatile Ayrton Perseo S and large format Domino LT pack a punch, as does the mighty Chauvet Maverick Storm 4 Profile.
Outdoor Moving Head Profile fixtures – Our outdoor profile range consists of the all-round brilliant Ayrton Perseo S, and its larger sibling the Ayrton Domino LT. Our other high output large format contender is the Chauvet Maverick Storm 4 Profile. Fully packed with features, these fixtures are equally at home inside or out – and with all LED Sources are easy and efficient to power too.
Outdoor Moving Head Wash fixtures – Our range of profiles all offer a surprisingly wide beam angle, but there are still times when a dedicated wash fixture is more appropriate - like when you need some on camera eye candy, or a look that is also visible in brighter conditions.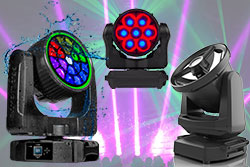 Our Martin MAC Aura XIP, Prolights WBX Wash, SGM BeaST and Chauvet Rouge Outcast BeamWash1 are all easy on the eye and lens - and offer a great range of looks from outdoor suitable units.
Outdoor Uplighting, highlighting & Colour Wash fixtures - Our range of static flood/wash and profile fixtures all bring the convenience of LED source colour ranges, coupled with low power consumption and high outputs. With a variety of fixtures to choose from, there is certain to be something to suit your application. If you require a large area colour wash, the SGM Q-8 or P-6 and Chauvet COLORado Panel Q40 provide high output options. For a linear wash, the Prolights Lumipix 15IP is a great RGBW product – or for something more dynamic the GLP Impression X5 IP could be used.
The ever-versatile LED Par is also a staple of this section, and we have nearly 1000 units in hire stock in the form of the White and RGB output versions of the Prolight StudioCOB (DY & FC) as our workhorse choice, plus the Chauvet COLORdash PAR H12X IP and smaller H7X IP version if RGBWAUV is more appropriate for your application. Chauvet also make our rental range of IP65 LED Profile fixtures, with Ovation Warm White (260-WW) RGB (910-FC) and the new RGBL Reve providing Source Four-esque profile fixutres – complete with a range of lens choices. Finally, and perfect for outdoor Film & TV production, or anywhere a flat even wash is required, we have the Chauvet OnAir IP softlights also in stock which like the other items mentioned are fully IP rated for indoor or outdoor use.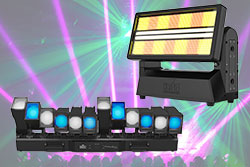 Outdoor Effects fixtures – Adding a bit of additional sparkle to your outdoor environment can be done in lots of ways, but lighting is of course an excellent choice. Our ever-popular Martin Sceptron VDO 10 LED strips can be incorporated into all kinds of structures and mapped to produce all kinds of different effects – or if you need to create a more organic design, our Chauvet RGB Festoon 2 may meet the design requirements. For bold statement looks, the Chauvet STRIKE M moving head strobe will demand attention, as will the brand new linear Chauvet PXL Curve 12 batten, with individually controllable pods to create wistful colour changing variable curves of light – or the intensely bright GLP Impression X5 Bar adds movement to a linear batten with an impressively accurate colour range.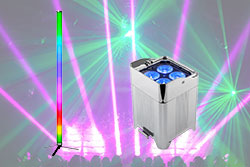 Battery Powered Outdoor Lighting – If power cables are not an option, we have outdoor ready rechargeable options including Astera AX1 Tubes, Well Fit uplighters, and even pastel output LED Spheres in a range of sizes that can float on water to enable lighting to be positioned in any outdoor location.
Functional Site Work Lighting – Supporting all the decorative and show lighting, we also have extensive stocks of discharge and LED Floods, LED Flori/ Fluorescent style tubes, plus various maintained and non-maintained exit options. For floodlighting outlying areas such as carparks, entrances and exits, we have a stock of event grade HVO powered Tower Lights, which are supplied as road towable units for easy deployment.
And we have literally miles of Festoon strings, with lots of different spacing and lamp options – with the closer spacing creating a very attractive effect, or the longer spacing versions being perfect for perimeter, walkway or campsite lighting applications covering extended distances.
Cabling, Rigging and Control – We also have all the supporting infrastructure available to turn lighting designs and layouts into working solutions onsite. We offer Avolites, Chamsys and GrandMA lighting desks, and have a range of DMX/Artnet distribution and networking equipment – plus a load of very handy Swisson DMX replay units for stand alone installations.
We have thousands of kilometres of single and three phase cabling and all kinds of adaptors. Various types of cable ramp including wheelchair friendly options and modular systems for larger runs are all ready to hire to get cabling where you need it. We stock lots of different Power Distribution units, with a wide range of input and output configurations – and have hundreds of units in stock. We also run our own fleet of generators and battery power sources (although most units are already booked for the current Christmas period). Loads of lengths of scaff tube, plus all the clamps, stands, bases and adaptors to rig it as required are also in stock – alongside a variety of sizes of truss, baseplates and stand/tower products to get your lighting and cable routes wherever needed.
TLDR: IPS have all the equipment needed for your outdoor lighting projects. We still have some availability for this winter season, so please check out the listings on our website, and get in touch to discuss your requirements.