News
IPS has just taken delivery of more Prolyft 1000kg Motors to add to the hire stock. These new Direct Control models are the latest version from Prolyft, and have been fitted with 27m chains for use on larger jobs- including to raise the roof on the flagship IPS CLT XL, a massive 16m x 14m Prolyte Outdoor Roof Structure. Supplied in Five Star flightcases, these Prolyfts are road ready for the summer. Raincovers for the Prolyft motors are now also in stock, with clever Velcro fastenings to protect the chainbags and moving parts from the elements.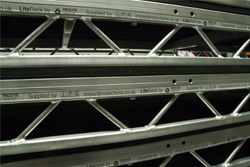 IPS now has in stock over 100 additional LiteDeck stage modules for the summer. New sizes now available include 8' x 3' and 6' x 3' decks; with a boost for the 8' x 2' deck size stocks too. This keeps the total IPS rental stock at well over 1000 LiteDeck modules, maintaining our status as the largest stockist of LiteDeck in the UK.
Read more: Over 100 LiteDeck Stage Modules added to Hire Stock
Details
Available for download now is the 2012 IPS Dry Hire Pricelist. This PDF is packed with all the details from the online pricelist, but in a handy downloadable format. It is also searchable, and has links to enable easy location of equipment. Once you know what equipment you would like to hire, contact us with the dates and equipment list, and we will then confirm availability and prices. Download it here now!
Details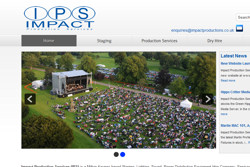 Impact Production Services (IPS) now has a glamorous new website at www.impactproductions.co.uk featuring updated stock details and more technical information - all in a easily navigatable format. More information will be added over the coming weeks, but the long awaited revamp of the site provides details of the extensive range of staging, lighting, sound and power distribution services that are available, along with more photos. IPS is also on Twitter and Facebook - keep an eye on these for the latest news and updates. Also, sign up to our newsletter for update emails and exclusive special offers- direct to your inbox.
Details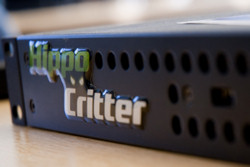 Impact Production Services (IPS) now stocks the Green Hippo Hippotizer Media Server, in the compact 1U Critter variant. Available from £450 per week, the Critter can add a whole new dimension to your event. Capable of running up to four video layers, the Critter is a powerful device for media playback. Control options via DMX and Artnet, along with MIDI and various other integration options mean lighting and video convergence are yet another step closer.