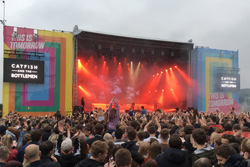 Summer is here and IPS are busy on Festival sites all over the UK, supplying all kinds of technical production infrastructure from Strobes to Structures…
Some recent highlights include 'This is Tomorrow' in Newcastle, 'Detonate' in Nottingham plus currently underway are the 'Heritage Live' summer concert series, with IPS supplying events in London, Essex and Bedfordshire. IPS have been supplying Outdoor Roof Structures for all of these events, plus various other elements of production equipment.
This is Tomorrow took place at the end of May, and featured headline acts including Catfish and the Bottlemen, Everything Everything and Thirty Seconds to Mars. IPS supplied structures, power and video – as well as some of the lighting equipment for the well-attended two day festival. The main stage was the IPS 16m x 14m Prolyte CLT XL Roof System which was installed on a Layher substructure, and included Layher based side of stage PA and Video Rigging positions. Other structures supplied onsite also included a Layher twin level FOH structure, and a pair of delay screen and PA support structures, also constructed from Layher. The
Spillers Wharf site in Newcastle is a large area of hard standing, so all equipment had to be surface ballasted, adding to the complexity of the build. IPS supplied LED Screens for the event, with IMAG screens to the sides of the main structure, plus a further pair of screens on the delay structures and a large screen to the rear of the main stage. All screens were constructed from IPS 6.9mm pitch Chauvet X6IP Outdoor LED Screen panels, and relayed camera feeds as well as bespoke content for the performers. Nitelites provided Sound and Lighting for the event, with IPS supplementing the lighting with Martin MAC Vipers, Aura XB and Atomic LED Strobes, along with GLP X4 Bars and Jem ZR45 smoke machines, all controlled from an IPS grandMA2 Light desk. IPS were also responsible for power generation and distribution onsite, with a series of IPS generator sets deployed for production, catering and security areas along with thousands of metres of power cabling and distribution. Five 45' Articulated trucks transported the equipment from Milton Keynes, all overseen by a group of IPS technicians – most of whom got soaked and sunburnt – all within 24 hours!
The 2018 Detonate Festival saw IPS supply the 12m x 10m Prolyte MPT as the main stage, plus two 8m x 6m Prolyte Arc Roof systems as additional stages along with FOH positions, and a Viewing platform. Event organisers make use of all parts of the Colwick Park site, meaning structures are built on some significant slopes – and one of the Arc Roofs was installed on a floating pontoon!
The Heritage Live sees IPS supplying the 18m Proyte Tunnel Roof on a Layher base, with cowsheds to provide additional space for the production. This concert series tours three different venues over the summer – and IPS are also providing the 'new for 2018' Prolyte S52 Rigging Towers, which enable PA to be hung up to 12m high either side of the stage. This will be the second outing for these new towers, with their first duty being at 'We Are FSTVL' a few weeks ago, after being added to the IPS rigging tower range as the larger version of the 7.5m RTH30V towers.
IPS have also been working on a whole host of other festival sites, plus supplying bridge and branding structures at the prestigious Blenheim Palace, providing rigging solutions at Film Premieres, providing lighting equipment for product launches, and conference sets and exhibition rigging and power at the ever popular Arena MK. Plus our busy warehouse team have been dealing with tons of Equipment Hire – and an awful lot of LiteDeck as usual!
We hope that you are having a great summer so far, and if you have any Staging, Rigging, Lighting, Video, Sound or Power requirements, please get in touch to discuss your requirements.