The IPS 16m CLT XL Roof stage is a 16m x 14m Outdoor Roof stage. This large self-climbing stage is really impressive, and can support huge lighting rigs - ideal for larger audiences, or larger shows. The CLT XL has hosted many performers, including a 60 piece orchestra, a military band, and various legendary pop and rock acts. The CLT XL is a customised version of the standard Prolyte CLT structure, developed specially for IPS by Prolyte Structures. Built on a 2m high Layher base platform, the structure has an internal height to grid of 9m, and the roof can support up to 10,000kg of load. The structure can also be supplied with PA wings.
Check out the PDF for more detailed specifications.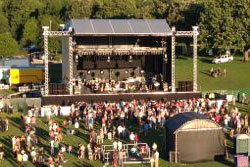 This structure is also available with Truss PA wings to the sides for an additional cost. All IPS structures have full H&S documentation and structural calculations, and are built by our teams of specialist technicians.
Please contact us for pricing and more information, or to discuss your event.