IPS offers a range of rigging solutions. With a broad range of experience working with ground supported and flown projects, we can hang, support and suspend almost anything! IPS stocks a wide range of rigging options, from a simple lighting stand to a complex self-climbing truss structure. Items from our extensive inventory can be supplied either on a dry hire basis, or can be supplied as a fully installed system, with structural calculations and loadings where required, and full Health & Safety documentation. Rigging can be completed by our trained technicians, who have a range of experience, and are also qualified to use various different types of access equipment.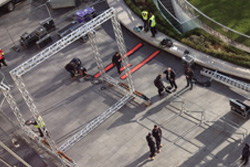 Some examples of recent Rigging projects & equipment:
Flown Lighting, Sound, LED Screen and Projection Truss
Flown Truss Circles
Ground Supported 'Circular Truss on Legs'
Ground Supported Box Truss Systems
Large Self-Climbing Ground Supported Truss Systems
Truss Goalposts for Entrance Branding (Both internal & external projects)
Hanging mechanical parts for a vehicle launch event
Ground supported LED screen support structures for Film Premieres (Including Lighting Towers & LED Supports for Skyfall)
7.5m & 16m Rigging Free Standing Rigging Towers - Ideal for PA Systems
Lighting Stands & Goalposts in a range of sizes and duty ratings
500kg & 1000kg Direct Control Motors
There is also an amount of interchangeable equipment within our other product ranges- for example our LiteDeck Staging system can be incorporated into rigging structures, and the Layher Event System and Allround scaffolding system is ideal for constructing complex support structures.
IPS can supply staging and bridging solutions too, and by offering a range of services economies of scale can be offered.
IPS are a Prolyte Rental partner, and stock extensive amounts of Prolyte Motors, Trussing and rigging accessories. IPS has in house CAD design capabilities, and can work with you and our preferred structural engineers to make almost any project possible. IPS also carries £10million Public & Employers Liability insurance to back up any project- please get in touch to discuss your rigging requirements.