Find out more about some of our recent summer projects here
IPS work on many Festival and Outdoor Events projects every year, providing a range of different services from a small viewing platform to full technical production. Two of the recent larger projects are Barcode Festival, and Ampthill Festival 2019. Both events took place over the same week, although were very different types of event.
Ampthill Festival takes place over three days, consisting of AmpRocks on the Friday night, followed by AmpProms on the Saturday and AmpGala on the Sunday. A varied line up for 2019 saw Squeeze, The Vamps, Jo Whiley and The Cuban Brothers perform, as well as the Collabro, The Ampthill Concert Orchestra and a range of other acts from big name stars to local favourites. IPS provided a full technical production solution, managed by IPS Project Manager Richard Wilson. Services provided included Staging & Structures, Lighting, Sound as well as site Power Generation & Distribution. The main stage for the event was the IPS 16m x 14m Prolyte CLT XL Roof Structure, which was constructed on a Layher base to suit the sloping site.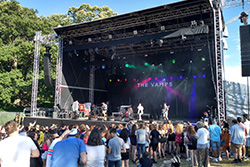 Fitted with PA wings and a side cow shed, the roof structure provided a centrepiece for the event and room for all the performers. A large stage space was needed especially for the spectacular Ampthill Concert Orchestra performance that incorporated a choir of 100 people along with the 100 people with instruments in the orchestra. IPS also supplied a 6m Bandstand elsewhere on the site, featuring performers including the Ampthill Town Band. Audio for the main stage was via the IPS Festival PA system package, which consists of a d&b V-Series Line Array system with Yamaha CL5 FOH and Monitor desks, a digital muticore system, and wide range of microphones, Radio Mics and IEMs to suit the riders and requirements of the various performers. Lighting was controlled via a Chamsys console, and control was distributed via a ArtNet and DMX network to the range of fixtures which included Martin MAC Viper Profiles, Clay Paky K20 B-EYE Wash, ROBE Pointes and a sprinkling of Molefay and Sunstrips. Haze machines and fans were also supplied to enhance the lighting – as well as around 50 other fixtures providing site lighting around the event site, some of which incorporated IPS dusk till dawn sensors to make sure power was used as efficiently as possible. Power was supplied via a series of generators, fitted with external fuel tanks for long run times, and an extensive power distribution system to get it to all the required site locations, all signed off to BS7909 by IPS technicians. The event was a great success, with lots of positive feedback from organisers and attendees alike – you can see some of this on our facebook page here.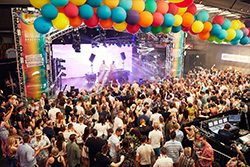 Barcode Festival took place at London's Hawker House, with IPS supplying full technical production for the event which was raising money for charity Grocery Aid. Headline act JessieJ performed to a packed crowd, supported by DJ sets from Basement Jaxx and Radio DJ Nick Grimshaw. As well as the music, there was a huge range of food and drink experiences from event sponsors, including cooking demonstrations with Top Chef Ainsley Harriott. IPS supplied a customised version of the 10m Prolyte Arc Roof with PA wings for the main stage, plus a Truss based Outdoor Cooking Demonstration structure, Crowd Barrier, d&b based PA system, Extensive stage and site lighting including equipment from Avolites, GLP, Martin Professional, ROBE, SGM and others helped create the festival atmosphere, and two Chauvet F4IP LED screens displayed media server and camera content to make sure that all the audience could see the action – which also featured a range of effects including Sparkular Cold Fallout Flames, Confetti Cannons, Smoke & Haze and a balloon drop. In the outside areas of the venue, IPS provided power supplied to all of the exhibitors from a twinset generator. IPS also ran heavy mains into the main building to supply the main production power requirements, as the installed power infrastructure couldn't cope with the supply needed for the quantity of strobes required by the JessieJ performance – it really was quite a show! IPS supplied hundreds of metres of power cabling and cable ramp, as well as a range of power distribution units to ensure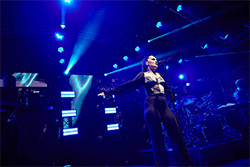 the appropriate supplies could be delivered to the required locations, and all with suitable RCD protection. Site lighting was supplemented by IPS with LED wash fixtures to brighten up any dark corners – including a range of Chauvet H1 battery powered LED fixtures used in the VIP Skybar area. The project was managed for IPS by Karl Saunders who also headed up the large technical team onsite, keeping things running over what was quite an intensive few days. During the event, over 12,000 portions of food and 10,000 cocktails were served by the 48 event sponsors, and an amazing £450,000 was raised – a huge success with plans already being made for 2020.
IPS have worked on a large number of events this year and have supplied everything from a single stage module to full production options like detailed here. If you have an event coming up, and require Staging, Rigging, Lighting, Video, Sound or Power services why not get in touch and see if we can help. IPS offer equipment only Trade Hire, full Production Services as well as various options with our range of Stage & Structures – we look forward to hearing from you.