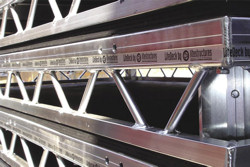 Tower structures offer an ideal solution where rigging equipment from a ceiling or roof structure is not an option. IPS can supply towers in a variety of configurations, depending on the required application. Towers can be as simple as a 4'x2' LiteDeck platform at 4' high to support a projector in a rear projection scenario - or a much higher braced structure to get over the heads of an audience for a front projection system. Towers can also be supplied with access treads/ladders and handrails to be suitable as a followspot position. Higher structures can be constructed using Layher components including trapdoors for internal ladder access, and integral bracing. Like all our stage structures, they can be supplied with a variety of different coverings such as covered scenic flats, or casement/drape coverings.
Small Rear Projection Platform – 4'x2' (1220mm x 610mm) LiteDeck Platform @4' high (1220mm) prices from £12.00*
Front Projection Platform/Tower – 4'x4' (1220mm x 1220mm) LiteDeck Platform @ 10' high (3050mm) include bracing. (Genie Superlifts can also be supplied to assist with getting equipment into position on platforms- Genie Superlift prices from £150) prices from £80.00*
Followspot Platform/Tower – 2m x 2m (6'6" x 6'6") Layher Platform @ 4m high (13') including ladder access, handrails and all bracing. Prices from £550.00*
*Prices based on a hire period of up to 1 week. Prices exclude coverings/trim, VAT and Delivery/Installation unless otherwise stated.