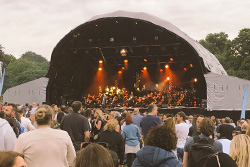 The IPS Tunnel Roof is available in a range of configurations, based on either a 14m or 18m width. It is ideal for larger events, and as it is constructed on a Layher Substructure, it can be built on a wide variety of surfaces. Side Cowsheds are available, along with a range of step and dock access configurations to the rear, and IPS have a full range of PA and LED Screen support options that can be added to complete your structure package. Control positions can also be supplied with single and multi-level designs to suit your needs.
A specially customised version from Prolyte, the Tunnel is a structure offering a curved top arch design that looks great in almost any setting. The modular bay system means that various depth configurations can be constructed depending on the event requirements.
Significant roof loadings ensure that production loads can be supported, and all IPS structures have full H&S documentation and structural calculations. Installed by a trained team of IPS technicians, the Tunnel Roof is the ideal focal point for your event. Please contact us for more information, or to discuss your event in more detail.
Download the IPS Prolyte 18m Tunnel Roof Technical Details by clicking here
Download the IPS Prolyte 14m Tunnel Roof Technical Details by clicking here