Outdoor Roof Structure deposit payments guaranteed if COVID-19 restrictions force event date changes
We know that everyone within the outdoor events industry is desperate to get back to work this summer, so we have launched a deposit guarantee scheme to help event organisers get their infrastructure secured.
Audiences are excited to return as soon as it is safe for events to go ahead, and whilst the Government "data not dates" approach is commendable in many ways, for us in outdoor events it means no fixed restart date is on the calendar. This is further reducing the range of available dates for summer 2021, and frustrating organisers who are already dealing with all the current challenges. Choosing a date too soon after the 21st June may mean risk of postponement, and later in the season may overlap with other established events with potentially reduced audience numbers or lack of available event infrastructure. Read the official Government COVID-19 Response Spring Roadmap here if you need the full details.
To try and make things work better for everyone, we have introduced the IPS COVID-19 deposit guarantee scheme. It means that as an organiser, you can now relax knowing that if your event is forced to postpone due to changing guidance, then we will transfer the full deposit to another date up until 31st December 2022, subject to availability. Whilst we appreciate there are still a great number of other considerations alongside the Outdoor Roof Structure for your event, hopefully this will make things a bit easier, and we can all get back to doing what we do best.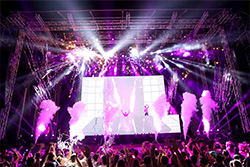 For the 2021 season, we are launching a brand new 15m mobile trailer stage alongside a 24m Eurotruss PR15 Roof structure. Both these structures are breaking new ground for us, and their inclusion in our range of Roof Structures following lots of planning and research over the last few years. The 15m smartStage Trailer Stage is one of the largest available in the UK, and offers a quick deployment time, whilst maintaining significant roof loadings and production possibilities. Talking of larger structures, our 24m Eurotruss PR15 is our biggest ever Outdoor Roof Structure, and ideal for bigger productions and audiences, offering extensive performance space and masses of production capacity.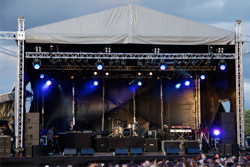 These new structures sit alongside our existing range of Outdoor Roof Structures, covering including a 6m and 10m Bandstand structure, 6m, 8m and 10m Prolyte Arc Roof options, 14m and 18m Prolyte Tunnel Roof and on the self-climbing front the ever popular 12m Prolyte MPT and 16m Prolyte CLT XL. Follow the links to find out more details and typical prices, plus, we also offer a range of supporting structures such as FOH Positions, PA Towers and much more – including Staging, Rigging, Lighting, Sound, Video and Power equipment, both on a trade dry hire basis or as part of a Technical Production solution.
Hopefully, the outdoor events industry will really get an opportunity to demonstrate what makes it so special this summer, returning with some safe and spectacular events on the horizon. If you have any projects coming up that would benefit from the IPS COVID-19 Deposit Guarantee Scheme, or any questions, please get in touch with us via the website or by phone on 01908 657950.